Warzone 2.0 Map Guide: In honour of the long-awaited release of Modern Warfare 2, the free-to-play battle royale game Warzone in Call of Duty receives a substantial update in the form of a new map called Al Mazrah.
Leaving the cool of Caldera's tropical climate behind, Warzone 2.0 transports players to the scorching desert of Al Mazrah in the fictitious nation of Adal. Now that new settlements, landmarks, and stone ruins have been added, players will have more places to explore and master.
Those who have played the multiplayer component of Modern Warfare 2 will recognize some of these locations. Get familiar with the new Warzone 2 map, Al Mazrah, with this handy reference guide. We will explain all Warzone 2.0 Map Guide and information in this article so to know more read our full article and stay tuned with us till the end of the article.
Sector 1: Al Mazrah Northwest—a look at the new points of interest in Warzone 2
Zone 1: Oasis
Zone 1: Taraq Village
Zone 1: Western Foothills
Zone 1: Rohan Oil Refinery
Zone 1: Al Safwa Quarry
Taraq Village, the Rohan Oil Refinery, and the Al-Safwa Quarry can all be found in the northwest part of Al Mazrah, amongst a vast landscape of oases and roadside ruins. To drop, loot, and hole up for a speedy ambush, Taraq Village appears to be the safest option. There are many buildings at the POI that can be used as cover, lookout points, or hiding places.
We've just deployed a fix that makes the Social menu accessible across #MWII and #Warzone2. Please restart your game if you continue to experience issues.

— Infinity Ward (@InfinityWard) November 17, 2022
Rohan Oil is the place to go for quick fights and easy loot. Tents and worker housing can be seen lining the perimeter of the oil complex, but the majority of the area is open. Always be on the lookout for snipers, as they can hide atop any of the many tanks and silos.
Al Safwa Quarry is, like Rohan Oil, a massive industrial complex hidden in the western foothills of Al Mazrah. To get a good lookout over the surrounding area and spot approaching enemies, the Upper Mountain Compound is the place to set down. However, the central area of the complex near the cranes and factories is your best bet for loot.
Sector 2: Al Mazra'ah Northeast
Zone 2: North Industrial
Zone 2: Western Outskirts
Zone 2: Al Mazrah City
Zone 2: Eastern Outskirts
Zone 2: Southern Outskirts
Zone 2: Zarqwa Hydroelectric
Zone 2: Mawizeh Marshlands
Zone 2: East Suburbs
Sector 2 is home to Al Mazrah City, the most populous area on the map. It could be the biggest hot drop on the Warzone map, with a wide variety of buildings to investigate (including a police station, several high-rises, and even an embassy).
🎉 With the launch of #Warzone2 and everything that's ahead of us, we want to express our gratitude for all the hard work and dedication that our team and partner studios have put into making this massive experience possible!

We're extraordinarily grateful to be a part of this! pic.twitter.com/dF8klFyvuK

— Raven Software (@RavenSoftware) November 16, 2022
If the hustle and bustle of the city are too much for you, perhaps the East Suburbs will provide a more tranquil environment in which to go on a shopping spree. There's a supermarket, a strip mall, and a freeway that runs right through the middle of town here.
Another crucial spot for map flipping is the Zarqwa Hydroelectric. In addition to its modern apartment buildings and factories, the village is home to a few significant historical sites. Given Zarqwa's central location, lone Operators and dispersed squads will inevitably make their way here once the ring closes.
Sector 3: Al Mazra'ah West,
Zone 3: Sattiq Cave Complex
Zone 3: Hafid Port
Zone 3: Sa'id City
The jewel of the western sector is a labyrinth of secret passages beneath the town of Sattiq. The Sattiq Cave Complex's labyrinthine layout makes it a good place to wait for unsuspecting foes.
🪂 Warzone 2.0 is NOW LIVE across the globe!

🫡 We'll see you in Al Mazrah! pic.twitter.com/KllcWvgoWv

— Raven Software (@RavenSoftware) November 16, 2022
Sattiq Cave Complex's exterior is made up mostly of crumbling villages and outposts, but players can also travel to Hafid Port and Sa'id City, two more developed coastal settlements. Hafid Port's Oil Jetty and Sa'id City's Soccer Stadium are two prominent local landmarks.
Sector 4: Al Mazrah Zaya Observatory and Mountains
Zone 4: Northwest Mountain
Zone 4: Zaya Observatory
Zone 4: Al Sharim Pass
Zone 4: Ahkdar Village
Since it lies in the middle of five other sectors, dropping into Sector 4 can be tricky. As the circle draws to a close, many players will inevitably move through this area. The Zaya Observatory and Ahkdar Village are both good places to set up shop in the middle of the game.
Since it is located on top of Al Mazrah, the Observatory provides a breathtaking panorama of the surrounding area. Once you have purged the area of fresh drop-ins, your enemies will have a long trek before they reach the heart of the location. Roads and bridges that twist and turn, and rocky, precipitous landscapes are all on the table.
THE WAIT. IS. OVER.

Warzone 2.0 is now live 🪂 pic.twitter.com/D3cciJ9Sf7

— Infinity Ward (@InfinityWard) November 16, 2022
The sights in Ahkdar Village are guaranteed to hold your attention. The UNESCO World Heritage Site features contemporary apartments, a grand bazaar, and a central courtyard. Due to the POI's mazelike layout and the narrow passageways and buildings, firefights will likely be fought at close range. the Warzone beta update is also ready to launch.
Sector 5: Al Mazrah Southwest
Zone 5: El Samman Cemetery
Zone 5: Sawah Village
Sector 5 has only two major landmarks, making it ideal for peacemakers and strategic thinkers. You can think of the walled El Samman Cemetery as the starting point for exploring the southwest. You can easily reach other abandoned neighbourhoods in all directions from here and plunder their contents as well.
Submerged Sawah Village can be found just south of the Cemetery. Sawah, Al Mazrah's Atlantis, features some interesting sights like the Covered Market and the beached Oil Tanker.
Sector 6: Al Mazraah South
Zone 6: Sarrif Bay
Zone 6: Al Malik Airport
Zone 6: Al Bagra Fortress
Sarrif Bay, Al Bagra Fortress, and Al Malik Airport are three coastal locations found in the southern region, just as they are in sectors 3 and 5. Sarrif Bay has its own Lighthouse Peninsula, Eastern Fishing Bay, and Resort in addition to the typical inland district of residential buildings and gas stations.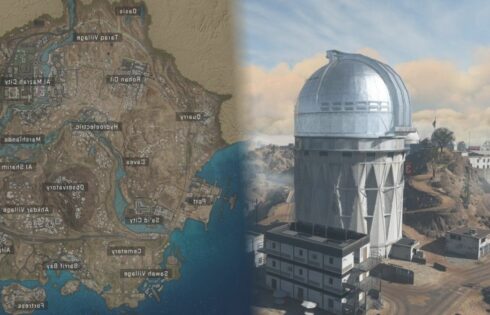 Now that swimming is a gameplay mechanic in Warzone 2, you and your team can cool off with a swim and survey the battlefield from the safety of the coast. Situated to the southeast of Sarrif Bay, Al Bagra Fortress is a walled island city. There is only one road leading to it from the Bridge and Cistern Entrance, but it also appears to be accessible by water.
There is more modern architecture to be found at Al Malik Airport, including multi-story parking garages, warehouses, an airport terminal, and a control tower. The longest and most open area of the POI is the long, dilapidated runway; it is recommended that looters avoid this area at all costs.
Do I need Modern Warfare 2 for Warzone 2?
After Warzone 2's release, Modern Warfare 2 won't be required to play it. Because it is a standalone title and not an expansion to Warzone, players' stats from the original game will not transfer over. The good news is that Warzone won't be completely shut down anytime soon.
Is Warzone 2 playable?
The upcoming Warzone sequel will indeed keep the same free-to-play model as the original. Online modes in Warzone 2.0 do not require a separate online service fee, and the game can be played for free in its entirety on both the PlayStation 4 and Xbox One.
How do you preload warzone 2 on Xbox?
Go ahead and fire up your Xbox One or Xbox Series X|S. Find Warzone 2 in the Xbox Marketplace. For a head start, select Warzone 2 and hit the download button.
Final Lines: In This article, we explain Warzone 2.0 Map Guide and other info if you like this article then stay tuned with us for future updates on our website Tech Ballad