Transformers X Crossover 2022: As part of their upcoming Brother's War set, Transformers playing cards will be available in Magic: The Gathering. Hasbro revealed today that Wizards of the Coast would make fifteen Transformers-themed Magic: The Gathering cards.
The cards, which will be included in Brother's War Set and Collector Boosters, and other Brother's War bundles, will be double-sided (allowing the robots to transform between their robot and vehicle forms).
Cards will be framed in two ways: traditionally, with a simple black border, and in a "Shattered Glass Frame," which features artwork from the Transformers' Shattered Glass universe, in which the Autobots and Decepticons switch places.
The "Transform" mechanic from Magic: The Gathering is absent from these cards for obvious legal and trademark reasons.
More Than Meets the Eye allows players to spend Mana playing a Transformers card in its vehicle, and Living Metal makes it clear that a Transformer in Vehicle mode is still a creature, so the cards will have two new mechanics.
These brand-new additions to the Magic: The Gathering card canon will be published under the "Universes Beyond" imprint, which has been expanding its range of cards to include settings and characters that don't fit into the established MTG canon.
The Dungeons & Dragons set from last year, the Warhammer 40,000 Commander deck series, and a crossover with Fortnite are all represented in the Universes Beyond card set.
Because Hasbro owns both Transformers and Magic: The Gathering, this is the first time that Universes Beyond cards have been packaged with regular Magic: The Gathering cards.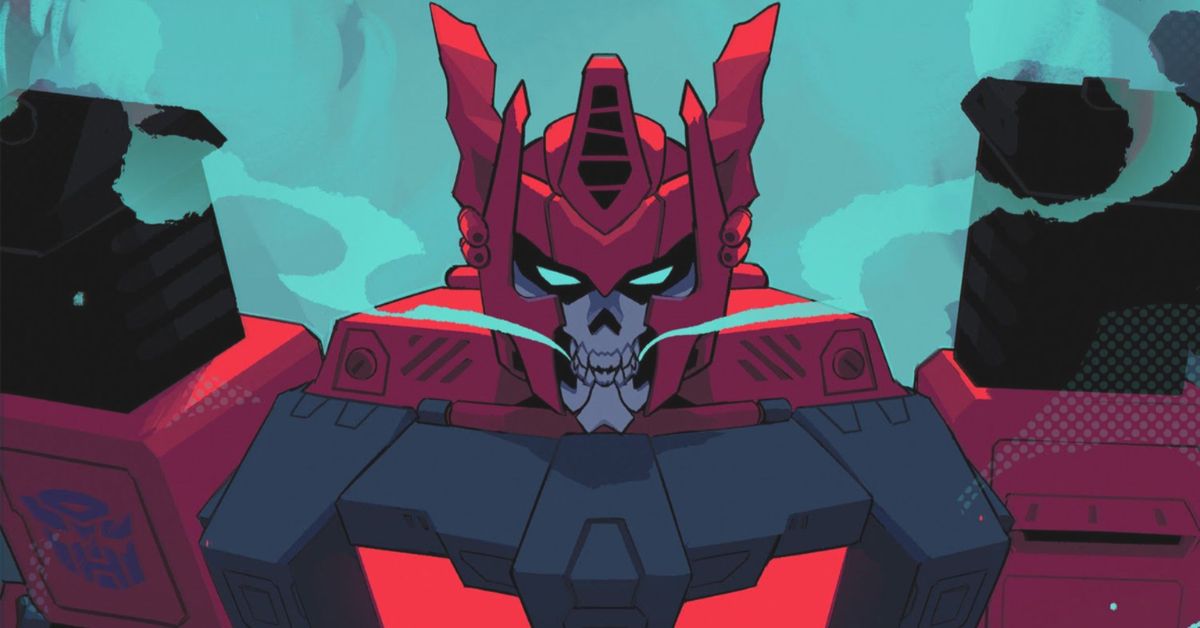 IDW Announce Back to the Future x Transformers Crossover Miniseries
With the help of his friend Doc Brown, Marty McFly travels through time and returns to a futuristic Hill Valley in the first issue. However, the arrival of the Decepticons threatens the peace and prosperity of Hill Valley.
One careless action propels Marty back into action to foil a Decepticon plot across time and space, this time with the assistance of a converting time machine piloted by an Autobot named Gigawatt.
Cavan Scott says, "When I was asked to write the official crossover comic, all I could say was 'Great Scott!' and jump in." In other words, it's a great match. Adventure, humor, and (most importantly) heart can be found in both Transformers and Back to the Future.
#Gijoe reboot happen possibly 2022 with paramount. I think this for crossover #transformers x #gijoe https://t.co/rtSWi6ltFJ pic.twitter.com/ri2gQAkvW4

— Affix Movies (@affixmovies) May 3, 2020
The opportunity to incorporate elements from all three Back to the Future films into a story that involved multiple Transformers timelines was a bonus. In this story, you'll recognize some familiar faces, both human and Cybertronian, and you might even encounter a few surprises.
According to Juan Samu, an artist, "I have waited my whole life for this moment!" As a bonus to being a genuine trip through time, this incredible undertaking has also allowed me to express my inner child in each and every one of the scenes.
I can't wait to get to draw the Autobots, Decepticons, Marty McFly, and Doc Brown! We appreciate the support from IDW, NBC Universal, and Hasbro. The chief editor at IDW, John Barber, has found many parallels between the Transformers franchise and the 1985 film Back to the Future.
They both have at least one really cool car, they both have characters and change at their cores, and they have inspired many generations of fans. At IDW, we couldn't be more thrilled to merge these universes!
Cover A is drawn by series artist Juan Samu, Cover B is drawn by Phil Murphy (Star Trek vs. Transformers), and there are two Retailer Incentive editions, one illustrated by Dan Schoening (Transformers / Ghostbusters: Ghosts of Cybertron) and the other featuring a photo of the highly anticipated AUTOBOT GIGAWATT toy.
ULTRASEVEN x TRANSFORMERS
The crossover you'll never see pic.twitter.com/cf7mhquBVJ

— Makotron (@raptron1978) August 1, 2022
A discussion of science and science fiction hosted by Comic-Con International as part of their "Comic-Con@Home" programming schedule, "The Science of Back to the Future," is co-published by IDW Publishing and the Fleet Science Center of San Diego.
This announcement is perfectly timed with the announcement of the Transformers / Back to the Future miniseries.
Panelists John Barber, Saura Naderi, Outreach Director at the Halcolu Data Science Institute at UC San Diego, Dr. Lisa Will, Fleet Science Center Resident Astronomer, and moderator Andrea Decker will be joined by special guests Cavan Scott and Juan Samu to discuss their work on the forthcoming crossover on Thursday, July 23 at 3:00 pm PDT.
Please keep visiting Techballad.com for updates. Keep our site bookmarked so you can quickly return to check for new content. Like Get Ready to Transfer Your WhatsApp Chats to a New Android Device