Toty FIFA 22: The FIFA 22 Ultimate Team Team of the Year has arrived, bringing with it tremendous hype and meta-busting cards that completely outclass all previous promotional teams. However, should you get excited about FIFA 22 Team of the Year cards?
Are they worth the hefty price tag to add to your team? Where, oh where, is the Egyptian record-setting and red-shirted forward Mohamed Salah? Relax; professional FUTWIZ player Jamie 'Jamodo' O'Doherty is here to fill you in on all the details…
What is Toty Fifa 22 Team of the Year?
Some of EA Sports' promotional teams have titles that may be baffling at first glance (what, exactly, is a "Versus Ice" card supposed to represent?). But things are straightforward when it comes to the FIFA Team of the Year: these 11 players were the best on the field in 2021 and were selected by the FIFA community.
Then, EA takes those people, gives them a bunch of new abilities and a gorgeous card design, and puts them in packs. In most promotions, if you open enough packs, you'll eventually get a special card, albeit the rarity of Team of the Years cards just adds to their allure. Even seasoned veterans might not have ever used one.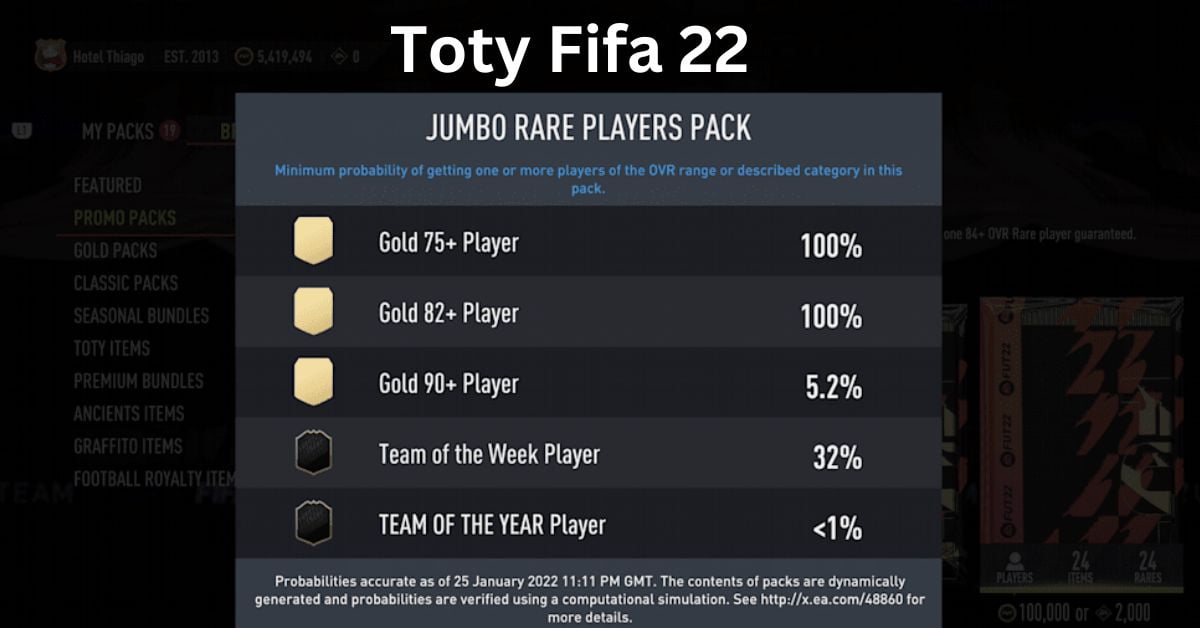 Here's who is in the FIFA 22 Team of the Year: 
Goalkeeper: Gianluigi Donnarumma (96 ratings)
Left back: Joao Cancelo (94)
Centre back: Ruben Dias (97)
Centre back: Marquinhos (95)
Right back: Achraf Hakimi (93)
Centre midfield: Jorginho (97)
Centre midfield: Kevin De Bruyne (96)
Central defensive midfield: N'Golo Kante (96)
Striker: Kylian Mbappe (97)
Striker: Robert Lewandowski (98)
Right-wing: Lionel Messi (98)
For Ultimate Team, "league upgrades" are some of the most sought-after SBCs, so named because players can trade in low-chemistry teams of common and uncommon gold cards for a pack that is guaranteed to include only cards from a given league.
It makes sense to invest in Premier League League Upgrade SBCs if your goal is to pack a TOTY card from that league. The subsequent grind of using discarded cards to create new packs is also a lot of fun. When compared to the pack weight of Ultimate Packs, the odds of finding the Player of the Year (TOTY) in an upgrade pack are significantly lower.
Is it a good idea to invest in rare gold cards?
Jamodo says, "Whatever you're putting into it, you've got to be willing to lose, even with these expensive enhancements." "You will likely be disappointed if you sell your entire team for a million coins in hopes of recouping a single TOTY.
In that case, why not try your luck by putting in some of your club's unused players, such as non-rare golds? Nonetheless, I wouldn't give them everything I had and hope for the best in return."