As of 2021, a Samsung smartwatch running Google's Wear OS was available to the public. With the Galaxy Watch 5, Samsung is continuing its line of wearable devices. The watch from last year caused quite a stir. To improve the process, Samsung is now looking into it.
Since the Gear Live in 2014, Samsung had not made a major deviation from the Tizen OS until the release of the Galaxy Watch 4. It wasn't your average Wear OS smartwatch, though. Samsung's One UI overlays Android with custom skins and functionality. This strategy is carried on with the Galaxy Watch 5.
This year, Samsung released not one but two watches for its Galaxy Watch line: the Galaxy Watch 5 and the Galaxy Watch 5 Pro. The Galaxy Watch 5 analysed here is the 40mm version. The Pro version is essentially the same as the standard one except that it has a bigger battery and a more robust build.
Hardware And Design
Dimensions: 40mm (40.4mm x 39.3mm x 9.8mm) or 44mm (44.4mm x 43.3mm x 9.8mm)
Weight: 28.7g (1.01oz), 33.5g (1.18oz)
Ram: 1.5GB
Storage: 16GB
CPU: Exynos W920
Build: Aluminum frame, sapphire crystal display
Water and dust resistance: IP68
Some similarities exist between the Galaxy Watch 4 and the Galaxy Watch 5. It's fortunate that Samsung kept the same look this year. Just by switching out the bands, you may adapt the design to a wide variety of uses. Put on a leather band for drinks on the patio, or a silicone one for a run.
Samsung says the size and thickness are the same as the Watch 4, but this is untrue. Having handled both timepieces, I can attest that the Watch 5 is noticeably bulkier. Nonetheless, I can't claim that it's noticeably thicker. The back's curves contribute to this effect. The Apple Watch 5 is not a hefty watch, which is great for me because I prefer less obtrusive wristwear.
On the right side, you'll find the Home and Back buttons, which, like the rest of the controls, have a satisfyingly weighty, tactile feel. I was just talking about bands, and it looks like Samsung is staying with the tried-and-true approach by using conventional lugs once again. The Watch 5 is compatible with any standard watch strap. There aren't any exclusive buckles or straps being used.
The normal Galaxy Watch 5 is constructed from aluminium, while the Pro model is crafted from titanium. The new sapphire screen, though, is the main attraction. Sapphire is far more durable than the Gorilla Glass that has traditionally been utilised for screen protection. Although it can still be shattered, the sapphire screen should never show signs of wear and tear.
Keeping with the theme of robustness, the Watch 5 is water and dust resistant (to the tune of an IP68 rating) and meets the requirements of the military standard MIL-STD-810H. It's great for swimmers because it can withstand depths of up to 50 metres. The watch is functional enough for everyday use.
A Exynos W920 processor and 1.5 GB of RAM power the device underneath the screen. Wear OS works splendidly on Samsung wristwatches. The watch felt quick even during the setup process, which is often where smartwatches slow down as you install apps. Neither sluggishness nor bugs have I experienced.
You may wear this watch with any outfit and it will look great. There is a long-lasting screen, pleasant-to-press buttons, and reliable performance.
Software 
The Galaxy Watch 5 is powered by Wear OS 3.5 and features Samsung's updated One UI (version 4.5). Incorporating Google Assistant into Samsung watches combines the greatest features of both companies. Good form and utility come together in this design.
Positive user experience is achieved through the software. With just a few taps, you can do anything. With the timer, I never feel like I'm taking too long to finish a task. You may access various fast settings, widgets, apps, and notifications by scrolling in any of the four cardinal directions from the watch face.
Before adopting Wear OS, Samsung watches suffered most from a dearth of useful apps. No longer is that a problem. With this update, the Google Play Store serves as a gateway to the world of watch faces and applications.
Yes, Samsung's digital assistant Bixby and other apps are still there, but you can easily disable the ones you don't want to use. For instance, holding down the home button can be programmed to launch Google Assistant. While double-pressing the Home button will bring up Google Wallet, long-pressing the back button will bring up Samsung Pay.
You may think of Wear OS with One UI as being virtually identical to how it reads. Google and Samsung are both present, and they get along swimmingly.
Battery Life
Battery size (40mm): 284mAh
Battery size (44mm): 410mAh
Until now, I haven't discussed one important aspect of hardware, and that's battery life. When it comes to smartwatches, this is a must-have function. If your smartwatch has poor battery life, it's almost as awful as your phone because you have to remember to charge it more often.
The battery of the Galaxy Watch 5 is slightly larger than the one in the Watch 4. Whether or whether that matters to you depends on how you intend to put it to use. Some people may see greater gains than others after starting to use their watch to monitor their sleep. As someone who always makes sure their phone has a full charge before bed, I've never experienced the dreaded "low battery" message.
My typical day begins at 8 a.m., when I remove the watch from its charger, and ends at 11 p.m. or 12 a.m., with more than 50% of the battery still intact. I feel like I could get through the day with the "Always-On Display" function on.
When I'm keeping track of my activities, the battery life starts to suffer a bit. My battery life is still satisfactory, even after an hour of running tracking uses a significant portion of it. If you often use the Always-On Display, take a lot of notes during workouts, and/or track your sleep, you may have battery anxiety.
The battery life is satisfactory overall. The battery life isn't great, but it's on par with what I've seen in other smartwatches. Samsung has also shifted to a USB-C charger, allowing for quicker charging and portability.
Fitness Features 
Samsung has a lot to offer in the fitness tracker category, which is one of the most popular uses for smartwatches. The Watch 5 is an excellent piece of fitness equipment due to its combination of high-quality hardware and innovative software.
When compared to Google Fit, Samsung's Health app offers many more features. Measure your heart rate, ECG, steps, blood oxygen, and body composition, and keep track of your sleep patterns.
Samsung claims that the new sensor makes better touch with your skin, which is why the design is noticeably bulkier. Neither the new nor the old sensor gave me the impression that they were giving me false readings, thus I can't say that I've observed a major change in the data collected.
When it comes to measuring temperature, that brand new sensor has you covered. While interesting, its practical applications are limited. No on-demand temperature monitoring is possible. Currently, it appears to be utilised for monitoring sleep patterns, but its applications could expand.
In terms of smartwatch features, one of my primary interests is fitness tracking. Even though Samsung Health is a powerful fitness suite on its own, it truly comes into its own when connected with a Samsung watch. In terms of affordable fitness smartwatches for the general public, I would place Samsung second only to Apple.
What Do You Think Of The Galaxy Watch 5 Pro?
To wrap up, I'd like to discuss the Galaxy Watch 5 Pro, Samsung's second Galaxy Watch model this year. Then, what is the distinction? A couple of important points were mentioned earlier.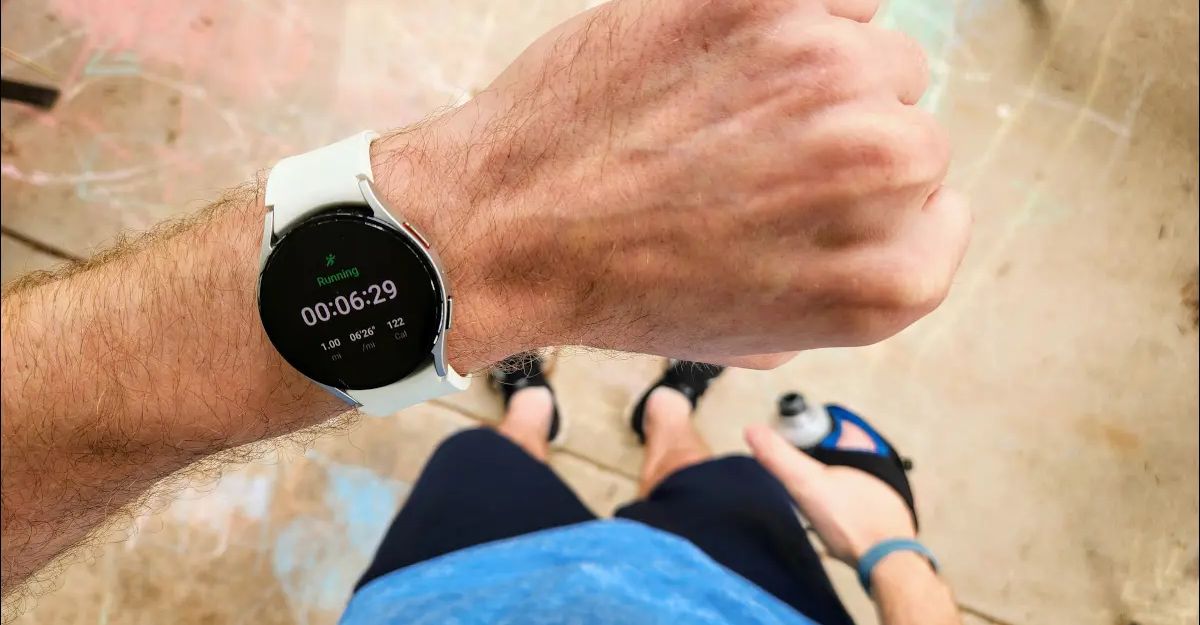 There is a 590mAh battery inside the Watch 5 Pro, while the Watch 5 has a 284mAh battery inside the 40mm version (the 44mm Watch 5 battery is 410mAh). In practical terms, that means the Watch 5 Pro can go nearly three days without needing a recharge.
There is also a significant disparity in size. In terms of screen size, the Pro model is identical to the 44mm Watch 5 (1.36 inches), however the Pro's casing is somewhat broader and thicker. At 46 millimetres in diameter and 10.5 millimetres in thickness, this is a substantial timepiece. The chassis is also constructed of titanium.
The Watch 5 Pro is essentially an enlarged and improved variant of the original Watch 5. In comparison to the basic Watch 5, you gain longer battery life, a larger form factor, and all of the same functionality. There is a cost for all that, exactly $450.
Should You Buy The Samsung Galaxy Watch 5?
The moment has come to find out if the Samsung Galaxy Watch 5 is actually worth purchasing. It all depends on your location and the type of phone you have. I will argue, though, that the Watch 5 is a better option than the Watch 5 Pro for the vast majority of consumers.
Samsung's latest Galaxy Watch 5 is a strong alternative to the Apple Watch. When compared to Apple's excellent fitness features, Samsung has done a commendable job of competing. Not quite on par, but very close indeed. The Watch 5 is your best bet if you're looking for an Android Wear alternative to the Apple Watch.
The Galaxy Watch 5 doesn't seem like a big jump if you currently own the Galaxy Watch 4. When compared to the Watch 4, you won't see many noticeable changes. Yet, those who have a Samsung watch that runs on the Tizen platform will see a significant change. The superiority of Google Apps and the Google Play store as a whole cannot be emphasised. And you can keep using all the familiar Samsung functions.
Although Samsung's long-awaited return to Wear OS with the Galaxy Watch 5 may not be as dazzling as the Watch 4 from the previous year, it is still a welcome development. This smartwatch, however, is incredibly well-built, sleek, and sophisticated. It's an elegant timepiece that may also be used as a fitness buddy.