All eyes are on the new iPhone 14 Pro and its revolutionary new feature, Dynamic Island. This innovative use of the pill hole in the iPhone screen enables a wide range of new interactions with running apps and functions. Notifications, now-playing details, delivery status updates, and more are all at your fingertips.
Furthermore, Apple has opened up Dynamic Island to third-party developers so that they can create their interactive features. Pixel Pals is the first example of how third-party developers can make use of this new capacity, and it opens up a world of possibilities for using the new Dynamic Island. Let's take a deeper dive at the iPhone 14 Pro and Pro Max version of Pixel Pals for Dynamic Island.
What are Pixel Pals?
Pixel Pals are virtual pets that behave like Tamagotchis and roam your top-level Dynamic Island. Apollo, an alternative Reddit client for the iPhone, provides access to Pixel Pals. Even if your Reddit news feed is full of fascinating stories, browsing the site might get boring after a while.
Pixel Pals are supposed to be a welcome distraction from the monotony of endlessly perusing Reddit's countless articles. Using the following instructions, you can bring a fluffy companion into your iPhone 14 Pro or Pro Max's Dynamic Island.
On the iPhone 14 Pro: How to install Pixel Pals?
Let's find out more about Pixel Pals' prerequisites. Then, you may utilize the information in the following section to include them in your custom Dynamic Island.
Requirements
Apollo v1.14.2 or higher
iPhone 14 Pro or iPhone 14 Pro Max
iOS 16 or higher
Step-by-step Guide
Take advantage of the link below to get Apollo on your iPhone.
Launch the app and select "Settings" from the menu that appears.
Tap and select General. 
Tap Pixel Pals at the bottom in the Other section.
Tap and turn off the toggle for Dynamic Island Zoo at the top of your screen.
Tap and select a pet you like.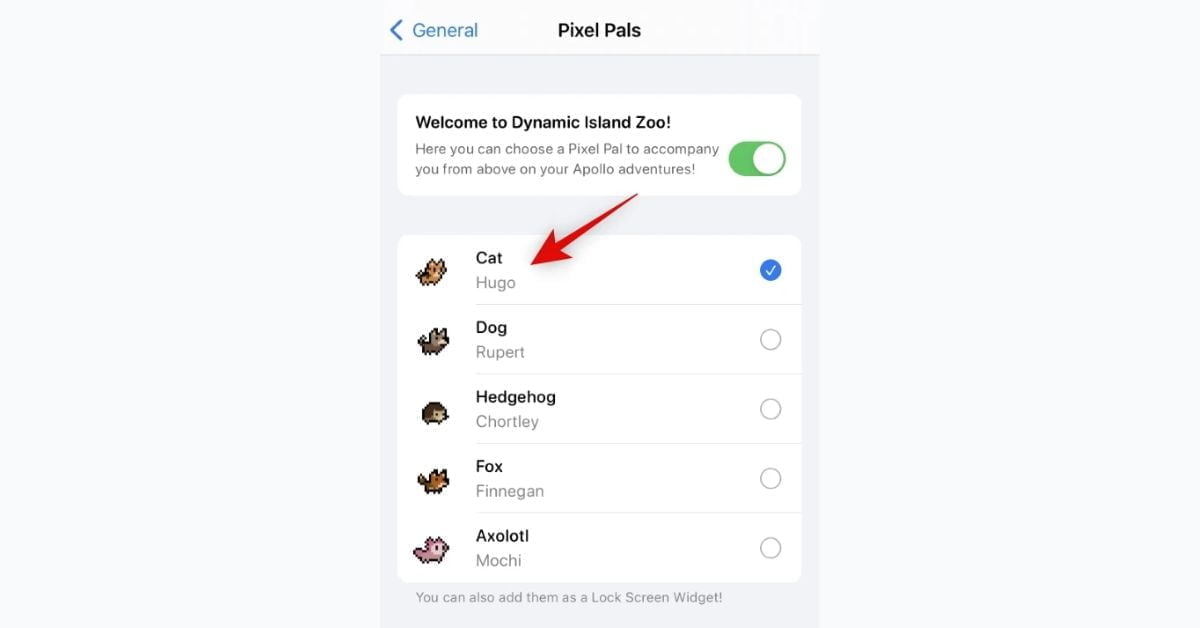 Yes, that's the last word. On the iPhone 14 Pro and Pro Max, your Dynamic Island will be updated to include the chosen Pixel Pal.
Name: Hugo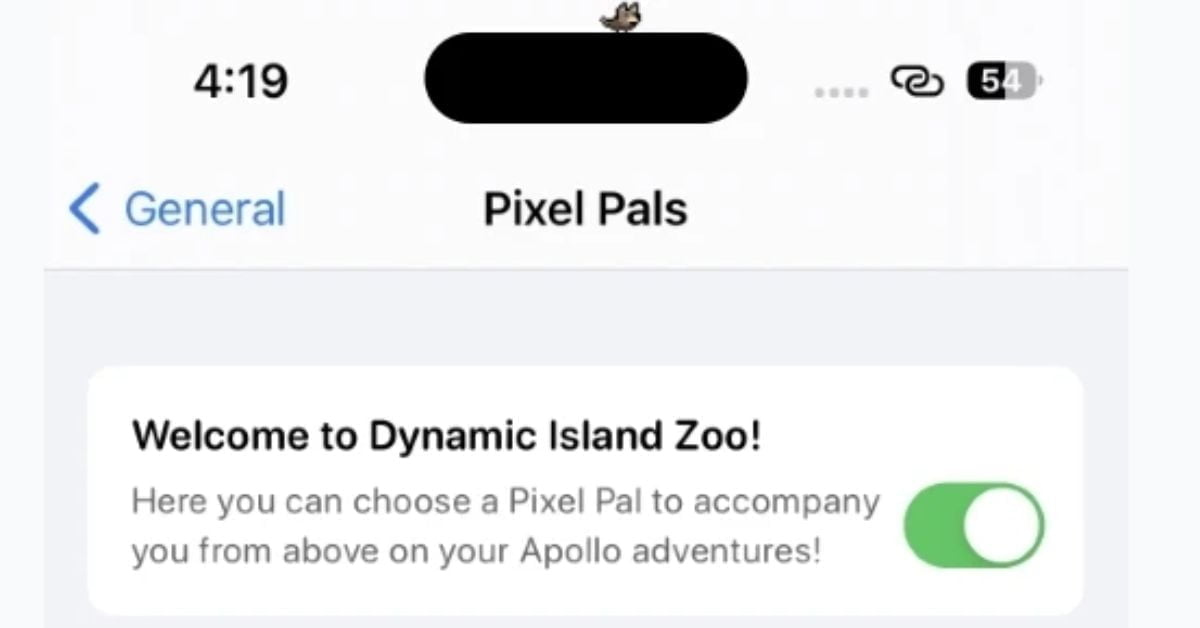 Name: Rupert
Name: Chortley
Name: Finnegan
Name: Mochi
Hugo and Rupert can be added to your Dynamic Island for no cost, however, Chrotley, Finnegan, and Mochi require an Apollo Ultra subscription. Push alerts, unique app icons, themes, and more are just some of the perks of an Apollo Ultra subscription, which costs $0.99 per month.
Does Pixel Pals work with other iPhone users?
Yes, Pixel Pals is available to all iPhone users, not just those with access to a Dynamic Island. In this case, though, rather than sticking Fido in your iPhone's notch, you may put Fido on your lock screen. Follow this guide to install Pixel Pals on an iPhone 14 or later.
How to download Pixel Pals for older iPhone models?
As was previously mentioned, those with an iPhone 14 or older can add Pixel Pals to their lock screen. Follow these instructions to have Pixel Pals appear whenever your iPhone is locked. If you haven't already, use the link below to download Apollo for your iPhone.
Simply open the app and enter your login details once. Get your device locked down and tap and hold the lock screen. When the option to personalize appears at the screen's bottom, tap it.
Tap your Widgets area under your lock screen clock.
Tap and select Apollo from the app list that shows up at the bottom of your screen.
Swipe left to access the last widget offered by Apollo. This will be the Pixel Pals widget. Tap and select a widget size you like to add to your lock screen.
Once the widget has been added to your lock screen, tap the widget to select your Pet.
Tap Pixel Pal.
Now tap and choose the pet you like.
Tap the X in the top right corner to top editing your widget.
Tap Done to save the changes made to your lock screen.
Thus, in iOS 14 and earlier, you can personalize your lock screen with a Pixel Pal. If it's anything like the preview displayed below, you're doing fine.