Philips ENVIA Gaming Monitor: Philips EVNIA has released the 34M2C7600MV, their first gaming monitor. The intelligent display boasts a 34-inch curved screen and is illuminated by 1152 individually controllable MiniLED zones. Both the Hue Festavia Smart String Lights and the Screen U5 4K projector have been released during the past few months by the same firm.
The VA panel on the Philips EVNIA's 34-inch curved screen displays 3440 by 1440 pixels at a resolution of 165 Hz.
Mini LEDs are used for the backlighting, and there are a total of 4608 lamp beads and 1152 backlight partitions. Moreover, it is DisplayHDR 1400 certified, with a peak brightness of up to 1400 nits and coverage of 97% of the DCI-P3 colour gamut.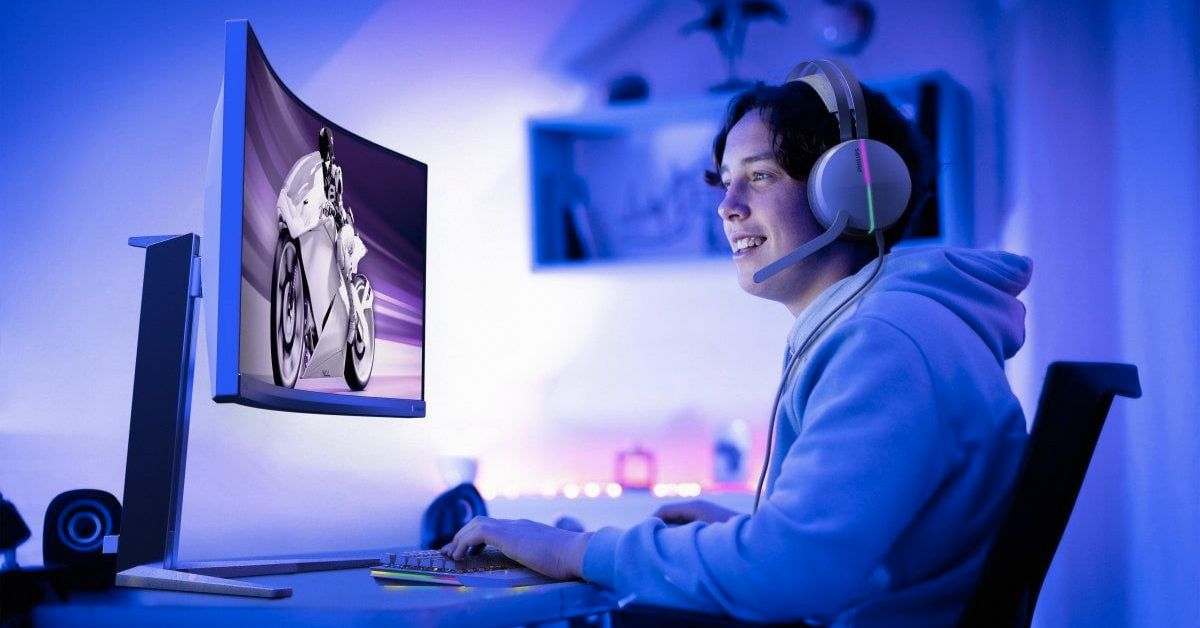 The monitor has two 5W stereo speakers and supports DTS sound effects for a high-quality listening experience. The monitor's backside ambient light uses cutting-edge Ambiglow ambient light technology to create a full 360 degrees of illumination. The colour of the displayed image and the tempo of the music cause the lights to morph in time.
This screen also has a smart split-screen feature that allows for the simultaneous connection and presentation of dual-channel signals. Each half of the screen functions independently of the other. In addition, a Keyboard–Video–Mouse (KVM) mode is available for instantaneous device switching.
The gadget has USB 3.2, DP1.4, and HDMI 2.1 interfaces. A USB-C port is included, and it may be used for 90W of reverse charging power. The new screen's release date and price haven't been confirmed just yet, but it should be available for purchase soon. 
Frequently Asked Questions About Philips Envia Gaming Monitor
Is it true that the Philips display is a poor choice for video games?
Philips displays are ideal for gaming due to their reduced input lag and lack of screen tearing. For the greatest digital photos, videos, or gaming experiences, SmartContrast instantly optimises contrast by adjusting colours and regulating illumination intensity.
Are Philips monitors any good?
Monitors from Philips, a trusted company known for making quality goods, are no exception. Curved monitors are just one example of the many form factors they offer for their displays, which also boast features like 4K resolution, FreeSync compatibility, and IPS technology for superior image processing.
Is Philips 144Hz monitor good?
In terms of price, the Philips 242E2GSJ is among the best 144Hz monitors you can buy for smooth images with rich colours and contrast. The pricing and design suggest that this monitor is bare-bones, but its performance is what really matters.
Which is the No 1 gaming monitor in the world?
LG UltraGear 34GP950G-B
Thanks to its rapid response time and Nvidia G-Sync Ultimate, you can enjoy smooth gameplay without experiencing any tearing, stuttering, coronas, or ghosting at the full 3,440 by 1,440 resolution. The screen makes any game feel more real.
Is Philips the same as LG?
LG. At the start of March 2007, shares of Philips Displays were put up for sale. Starting on April 1, 2007, the business will be known as LP Displays. The initials "LP" stand for "LG Philips," the original parent business.