Home Screen Changes
A lot of changes were made to the front end of the user interface in One UI 5.0, making it easier to use the system's default launcher. These can be anything from minor adjustments to new features or even a complete rewrite.
Theme And Color Scheme
There are now more color options to choose from in the Color palette. There are 12 wallpaper color palettes to choose from, and 12 "basic" color options to customize your device with, including 4 dual-tone variations.
Throughout the course of the beta for Samsung's One UI, Google's flat-themed icons have been progressively integrated. More icons can now be themed as part of the broader Dynamic Color settings previously adopted in One UI, thanks to the completion of Android 13 for Samsung phones.
All of Samsung's preinstalled apps share a common aesthetic, and many of Google's native apps will adjust their color schemes to match your preferences. Unfortunately, at least for the time being, not many third-party apps provide support for monochrome home screen icons.
Notification Panel Alterations
Changes to the Notification shade's layout include increased white space and larger app icons for new alerts. The panel has rearranged itself so that pressing and holding any notification brings up a more sizable option to enter app-specific Settings when done so. It seems that the option to "Deliver quietly" has been disabled. The "Notification settings" and "Clear" buttons that are docked have been given a cosmetic makeover by being replaced with rounded M3 buttons.
Multitasking improvements
To quickly switch to split-screen multitasking or move an app to a floating window in One UI 5.0, simply press and hold the app's icon in the Recents menu and drag it to the desired location on the screen. Apps that have been pinned to the top or bottom of the screen can be accessed instantly by dragging them there.
Improved Animations
Animator quality and consistency have been a bone of contention for One UI (and Android in general) over the past few years. A lot of people have said that Samsung is the worst when it comes to sloppy animations in their apps and user interfaces. Samsung has been able to streamline its processes thanks to Android 13.
While there are still a few frame skips here and there in One UI 5.0, the overall experience is much more stable. However, even on 120Hz displays, scrolling isn't always as smooth as it should be. An obvious enhancement exists when moving between apps, going back to the home screen, or using the various floating or pulldown UI components.
New widget options
When new operating systems are released, widgets are rarely a focal point. In any case, One UI 5.0 adds a few useful features. For starters, a "Smart suggestions" widget can now be added to the home screen. This provides access to a wide range of applications and features, some of which may be unavailable at other times or in other contexts.
Adding more native apps to your device that offers widget support is another way to build a smart stack. As a result, the procedure has also evolved. It is not necessary to make a "Smart Widget" when you can simply long-press on any widget and use the "Edit stack" feature to add to it.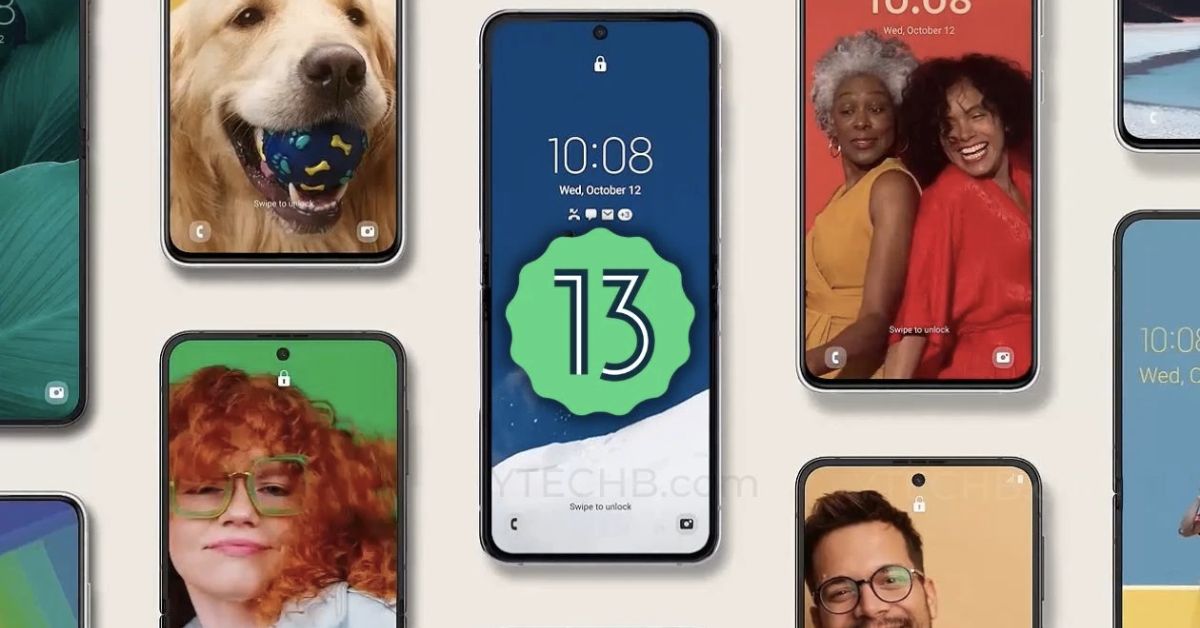 Revamped Wallpaper page
When using One UI 5.0, you'll be greeted by a redesigned Wallpaper selection screen to make your wallpaper changes. You can find what you're looking for more quickly thanks to dedicated tabs for each wallpaper category and a scrollable "Gallery" tab that stores any user-created or downloaded content you may have.
The updated section also includes new controls for basic colors, visual themes, and the Dynamic Lock screen. Once you've decided on the perfect wallpaper to match your device's theme, you'll be able to see a small preview of it in situ and choose whether to set it as your Home screen wallpaper, your Lock screen wallpaper, or both.
Control Over Your Phone's Lock Screen
Even though a similar feature has been available as part of the Good Lock app for Samsung phones, One UI 5.0 integrates this into the fundamental Android build on Galaxy devices. Several features of iOS 16's screen lock customization are also present on the iPhone.
Similar to iOS, a long press on a locked device will reveal options to customize the lock screen's font, wallpaper, and the look of notification widgets. In addition to customizing the contact info and lock screen signature, you can also customize the apps that appear as the bottom left and right app shortcuts.
Like iOS 16, this can be personalized, so it feels like an old hat. Sadly, individual profiles cannot be saved. Instead, you'll need to regularly swap out your lock screen.
Camera Enhancements
The Pro photo and video modes are now more easily accessible thanks to the addition of quick-access information tabs within the camera interface. Each video and photo "Pro" mode toggle and setting has an I icon that, when tapped, opens a floating pane with a brief explanation of what it controls or changes.
There is a new switch in the camera's settings that allows you to add or enable watermarks for all photos taken with your Galaxy camera. There are a few fonts and alignment options to choose from, but you can add a watermark with the time and date, the device model number, or completely custom text to match your aesthetic.
Zooming in and out with a digital camera's scroll wheel is also easier thanks to Samsung's updates. You can more quickly and easily zoom in or out to 100x or 0.5x magnification levels within the viewfinder. This is perfect for when you need to take a picture quickly while on the go and need to zoom in or out.
Gallery and editing apps
With the latest update to Samsung's stock Gallery app, you can now modify the Portrait Blur effect after taking a photo. One nifty feature introduced in 5.0 of the One UI is the ability to select text from images and videos in the Gallery app and then copy it, paste it elsewhere, and share it. To copy text from an image, simply long-press the image and your Galaxy device will analyze it.
Due to the transparent nature of PNG images, the new custom sticker option allows you to select any part of an image and convert it into a PNG, which can then be used as a sticker. The accuracy of the edge detection is lacking, but it's fine for quick fixes.
A major improvement in One UI 5.0 is the markup tool. Recent updates have added more powerful features, such as the option to highlight specific shapes within an image. This is easy to accomplish; just draw and keep the shape where you want it to be recognized and transformed into an exact replica.
Samsung has also expanded the preloaded assortment of stickers, allowing you to customize your photos with a wider variety of block shapes, speech bubbles, and glyphs. With the new in-app slider, you have complete control over the font size when inserting text.
Per-app language controls
Similar to Android 13 on Pixel phones, Galaxy devices now have per-app language controls built into One UI 5.0. If the app you're using allows for it, you can switch the language of your phone's interface to one that better suits your needs if you're bilingual. Your custom app language settings will remain unchanged regardless of the system language you choose.
Settings changes
Changes to the Settings page make it easier to access and use the app's primary device and account management interface. There have been a lot of small tweaks and improvements that mostly just make things more obvious and easier to find.
Tools with Internet Access
New tabs, such as Google's "Connected devices," have been added to the Settings pages on Samsung devices. Here you'll find a wide variety of Android-based accessories and features, including the S Pen, DeX, Link to Windows, Android Auto, and wearables. Several of the options that used to be in the "Advanced features" section have been moved here.
About Device Icon
To give you an idea of what your device looks like, the "About device" screen provides a small PNG preview that accurately represents your device's color scheme.
Wi-Fi Developer Menu
In One UI 5.0, there is a new "Intelligent Wi-Fi" option in the expanded overflow section, which conceals a Wi-Fi Developer menu. If you tap the "Intelligent Wi-Fi" menu item more than once, you'll unlock the "Wi-Fi developer options" menu, which contains advanced connectivity settings like band information and Wi-Fi overlap.
App Notification Customization
Each app can have its own set of preferences for notifications, including the ability to change the type of alerts received. You can customize the notification settings for each app separately, including hiding them from the lock screen, turning off badges, and suppressing pop-ups. This is in addition to the option to permanently disable notification sounds.
Routines Pages
In different situations, different modes may be enabled or altered. This is merely a better automation option than the antiquated Bixby Routines feature found in earlier versions of the One UI. Common phone actions can be automated based on context or time.
Optional RAM Plus
With the RAM Plus feature, you can dedicate up to 8GB of your device's internal storage to serve as virtual memory, which should boost performance and enable more apps to run in the background without slowing down your device. In versions 4.0 and 4.1 of the One UI, this feature was activated by default. If you don't want to give up to 8GB of internal storage, you can turn this feature off completely in One UI 5.0.
When can I expect to receive the One UI 5.0 update for my Galaxy phone?
Samsung has begun rolling out the latest update to multiple smartphone series, including the Galaxy S22. There is no set date for the rollout, but the latest version will also be available for older handsets like the Z Fold series, the S21 lineup, and many more in the coming months.
What Is Your Favorite New Feature In One UI 5.0?
Is there a particular new function in One UI 5.0 that you just can't do without? Feel free to share your thoughts on the best update below.