Metal: Hellsinger combines first-person shooter (FPS) gunplay with rhythm-based action, and it's available to Xbox Game Pass members from the get-go.
Some pretty fire news for you all:

Metal Hellsinger is coming Day One to Game Pass 🔥 pic.twitter.com/kH6OQmreiQ

— Xbox Game Pass (@XboxGamePass) September 6, 2022
Rhythm video games have been around for quite some time, despite being a subgenre of the gaming industry. The PlayStation 1 video game Parappa The Rapper, which debuted in Japan in 1996, is generally regarded as the pioneering example of the genre.
Since then, we have seen the release of games like Guitar Hero and the virtual reality game Beat Saber, which help players improve their rhythm and coordination while getting some exercise.
Metal: Hellsinger, an upcoming game developed by The Outsiders, aims to combine rhythm-based gameplay with classic first-person shooter features while featuring a heavy metal soundtrack.
Metal: Hellsinger, first announced during 2020's Summer of Gaming, sounds like Doom set to music. Doom and its sequel, Doom Eternal, were critically acclaimed after a soft reboot of the series in 2016, bringing new fans to the long-running first-person shooter game.
Metal: Hellsinger plans to follow a similar formula, with locations and adversaries that would not appear out of place in a Doom game, with one crucial distinction.
Adding intense metal music and rhythmic gameplay will reward players who are good at timing their shots to the music. When Xbox Game Pass debuts later this month, Metal: Hellsinger will be available there, too.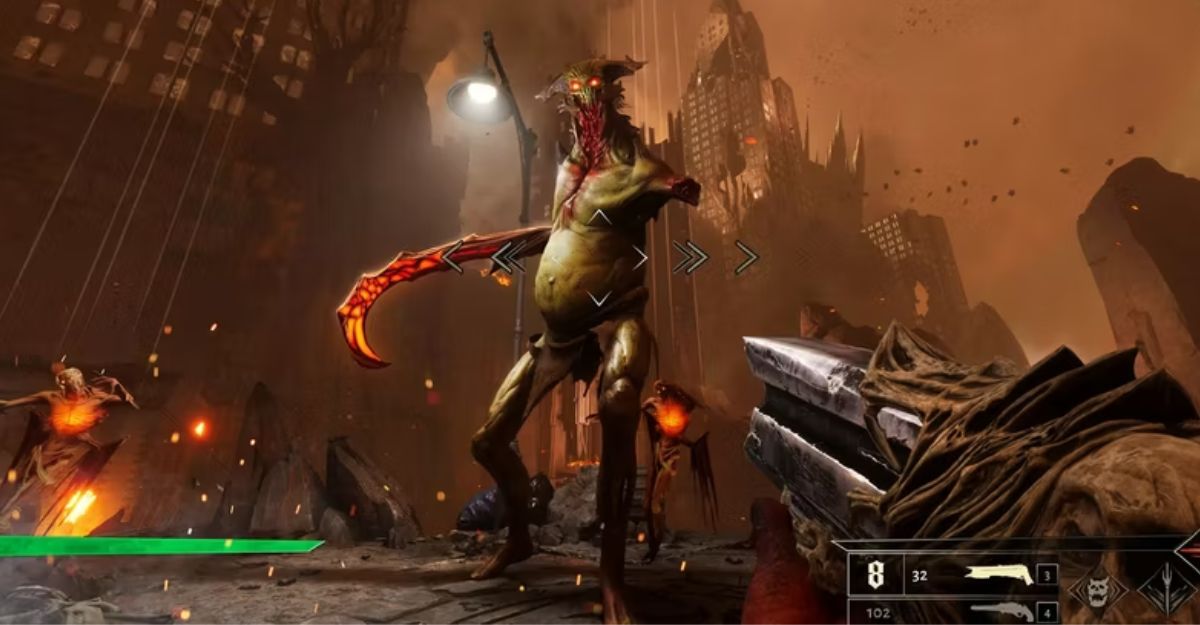 Metal: Expect A Lot Of Thrills And Spills In Hellsinger.
The game's goal is to progress through increasingly horrific venues while employing an arsenal of powerful weapons to destroy waves of increasingly diverse demons.
Metal: Hellsinger | Trailer

Coming #DayOne to #XboxGamePass September 15th pic.twitter.com/QZSUed4UBT

— Game Pass Counter (@gamepasscounter) September 6, 2022
The player must attempt to time their shots in sync with the relentless pounding of the background metal. In addition to racking up more points, you'll also deal more significant damage if you're successful.
Metal: Hellsinger is not the first game to incorporate rhythm gaming with first-person shooter combat. In 2020, Bullets Per Minute was published for PC. A few years later, it was ported to consoles, following the same formula and scenario, keeping players occupied with dynamically created dungeons.
Metal: Hellsinger aims to set itself apart from Bullets Per Minute by improving upon its strengths and expanding upon its weaknesses, and, strangely, it appears to be taking a more story-driven route as opposed to Metroidvania-style arenas.
No information has been given about "The Red Judge," the antagonist the player must defeat by battling through hell. The inclusion of Troy Baker, a veteran of the video game industry known for his diverse voice work, including the protagonist Joel Miller in The Last of Us and Sam Drake in Uncharted 4, as the voice actor for the game's campaign gives the impression that the game is more focused on having a coherent story than games like Bullets Per Minute.
The Outsider's first game is likely to be a highly unconventional choice, but the developer certainly hasn't played it safe. Metal: Hellsinger promises not only rapid and furious gunplay but also a significant ensemble of singers.
Performers including System of a Down's Serj Tankian, Lamb of God's Randy Blythe, Arch Enemy's Alissa White-Gluz, and Trivium's Matt Heafy have already been confirmed.
Fans of first-person shooters and heavy metal should be pleased with what they have seen thus far of Metal: Hellsinger.
This is another example of Microsoft including an intriguing Day One game in their massively successful subscription program. The fact that it will be available at launch for customers of Xbox Game Pass is the frosting on the cake.
On September 15, Metal: Hellsinger will be available on PC, PS5, and Xbox Series X/S through Xbox Game Pass.