Marvel Phase 5: The Marvel Cinematic Universe (MCU) Phase Five is an American superhero film and television series produced by Marvel Studios based on characters from Marvel Comics publications.
Beginning in 2023 and continuing through the middle of 2024, all Marvel Studios productions will be released through Walt Disney Studios Motion Pictures, with the series debuting on Disney+. The first feature film will be Ant-Man and the Wasp: Quantumania, due in February 2023, and the first season of the animated What If…? will premiere early in 2023.
Producers Stephen Broussard for Ant-Man and the Wasp: Quantumania, Nate Moore for Captain America: New World Order, and Eric Carroll for Blade work under Kevin Feige's direction throughout this period, with Feige also serving as executive producer on all films and series.
Phase 3's films include Paul Rudd and Evangeline Lilly's Ant-Man and the Wasp: Quantumania, the ensemble Guardians of the Galaxy Vol. 3, Brie Larson, Teyonah Parris, and Iman Vellani's The Marvels, Anthony Mackie's Captain America: New World Order, the ensemble Thunderbolts, and Mahershala Ali's Blade.
Season 2 of What If…? narrated by Jeffrey Wright, Secret Invasion starring Samuel L. Jackson and Ben Mendelsohn, Season 2 of Loki starring Tom Hiddleston, Ironheart starring Dominique Thorne, Echo starring Alaqua Cox, Agatha: Coven of Chaos starring Kathryn Hahn, and Daredevil: Born Again starring Charlie Cox are all part of this Disney+ television phase. The Multiverse Saga is composed of this fifth phase and the fourth and sixth phases.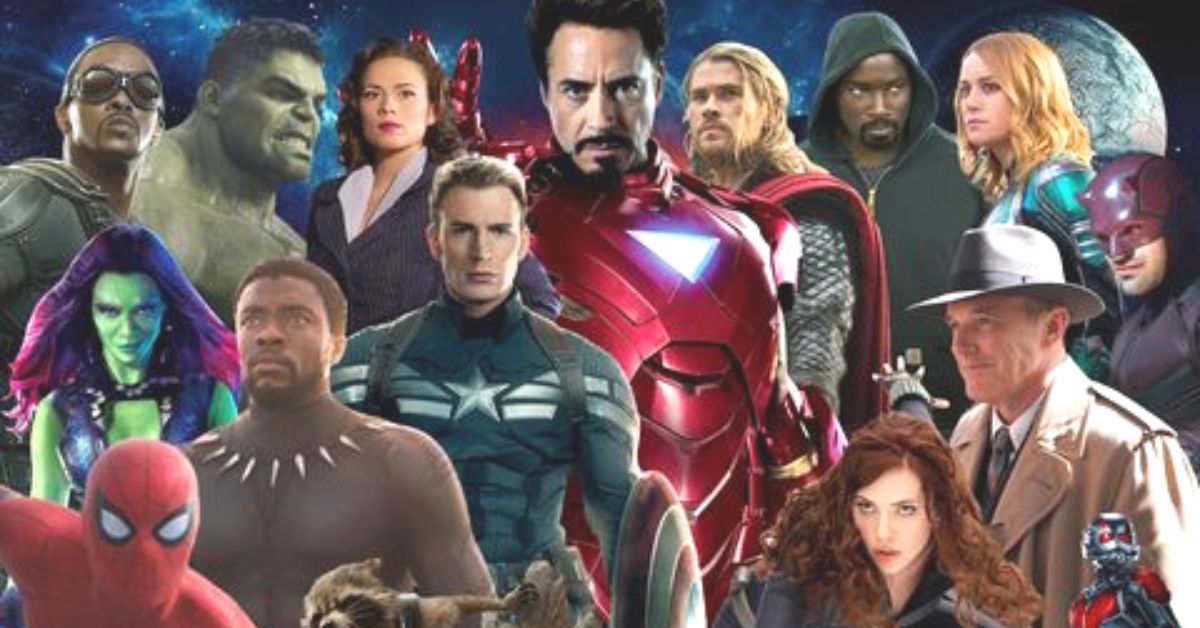 Marvel Phase 5 Movies
Ant-Man and the Wasp: Quantumania
Quantumania, starring Ant-Man and the Wasp, marks the beginning of Marvel's fifth production phase. The first trailer for Peyton Reed's third MCU (and Ant-Man) film hints that it will be the most ominous and dark Ant-Man solo film to date.
Scott Lang/Ant-Man (Paul Rudd), Hope van Dyne/Wasp (Evangeline Lilly), Hank Pym (Michael Douglas), Janey van Dyne (Michelle Pfeiffer), and Cassie Lang (Krysten Ritter) all make returns in the threequel (Kathryn Newton).
Nick Fury, played by Samuel L. Jackson, is expected to make an appearance, and cameos by Randall Park's Jimmy Woo and David Dastmalchian's Kurt have also been confirmed. Kang the Conqueror will be the next major villain in the Marvel Cinematic Universe and debut in Ant-Man 3.
In the first season of Loki, Jonathan Majors played one of Kang's variants, He Who Remains, so it makes sense that he would play the time-traveling genius. Bill Murray, a legend in his own right, has hinted at playing a villain named Krylar.
Corey Stoll, who played Yellowjacket in 2015's Ant-Man, will appear as MODOK, another Marvel supervillain. Finally, Willian Jackson Harper from A Good Place has been cast in an unspecified role, though rumors that he will play Reed Richards are said to be exaggerated.
Guardians of the Galaxy Vol. 3
This film concludes the Marvel Cinematic Universe trilogy that James Gunn (now co-head of DC Studios) has directed since 2014. It follows the events of the Disney Plus Holiday special, The Guardians of the Galaxy Vol. 2, and Thor: Love and Thunder.
Not much is known about this film beyond that Dave Bautista will not be reprising his role as Drax and that Gunn has hinted at significant character deaths in the film's third sequel. A multi-armed, gun-toting Groot, a baby Rocket, and Adam Warlock all made appearances in the first trailer for the film.
Warlock, who was hinted at in the post-credits scene of Guardians 2, will be played by Will Poulter. Maria Bakalova (Borat 2, Bodies Bodies Bodies) returns as Cosmo the Spacedog from the Guardians' Holiday Special, while Chukwudi Iwuji (Peacemaker) portrays the villainous High Evolutionary. The roles of Nico Santos (Crazy Rich Asians) and Daniela Melchior (The Suicide Squad), who are also in the cast, are unknown at this time.
The Marvels
Technically a follow-up to Captain Marvel, Nia DaCosta's film will feature the first-ever cinematic team-up of female superheroes. If you don't count the women of the Avengers: Endgame cast, that is. In the 2018 film Captain Marvel, played by Brie Larson and Lashana Lynch, Danvers' best friend Maria's (Rambeau) daughter Monica is played by Teyonah Parris.
Rambeau, aka Photon, hasn't been seen since their appearance in WandaVision, so their reunion will likely be as awkward as a family get-together. After starring in her TV series, Iman Vellani's Ms. Marvel will also make her big screen debut.
The film's antagonist will be Zawe Ashton (Velvet Buzzsaw), and the film's antagonist will be Park Seo-Joon (Parasite), with Samuel L. Jackson's Nick Fury also making an appearance. Even though a trailer was shown at D23 Expo 2022, we still have to wait a while before we can watch it.
Val will appear in many projects of Phase 5 #MarvelStudios #DisneyPlus pic.twitter.com/tj8pbQnI24

— Marvel Updates (@marvel_updat3s) December 16, 2022
Captain America: New World Order
To be played by Anthony Mackie, Sam Wilson will appear in the upcoming Captain America sequel. The screenplay is written by Malcolm Spellman (Falcon and the Winter Soldier; FATWS), and the film is directed by Julius Onah (The Cloverfield Paradox). The shoot is scheduled to start in early 2023.
Although details about the film's plot are scarce, Marvel producer Nate Moore has hinted that it will be an "underdog" movie. As for Onah, he called it a "paranoid thriller" at the D23 Expo 2022.
Joaquin Torress (Danny Ramirez) and Isaiah Bradley (Carl Lumbly) from FATWS will be back. For his part, Tim Blake Nelson's Samuel Sterns/The Leader returns to the MCU after last being seen in 2008's The Incredible Hulk.
Israeli superheroine Sabra, played by Shira Haas (Unorthodox), could serve as a new connection between the MCU and the mutant subculture. Chris Evans has denied rumors that his character, Steve Rogers, will make a cameo, but there is currently no confirmation.
The role of General Thaddeus 'Thunderbolt' Ross, previously played by William Hurt until his death in March 2022, has been widely rumored to be upcoming for legendary actor Harrison Ford.
Winning awards, receiving multiple nominations, and quickly becoming a mainstream darling…The Queen of Marvel #Wanda is on a roll. And her streak is only heating up. Let's just say her onscreen return in Phase 5-6 will be nothing short of electrifying and spectacular 👑❤️ pic.twitter.com/ojm5DUjCQY

— The Spider & The Witch (@SpideyScarletUA) December 14, 2022
Thunderbolts
Jake Schreier, who directed Paper Towns, is at the helm of Marvel's Thunderbolts, which is being billed as an anti-hero Avengers-style film.
The cast includes Sebastian Stan as Bucky Barnes/Winter Soldier, Florence Pugh as Yelena Belova, David Harbour as Red Guardian, Wyatt Russell as US Agent, Hannah John-Kamen as Ghost, Olga Kurylenko as Taskmaster, and Julia Louis-Dreyfus as Valentina Allegra de Fontaine.
General Thaddeus "Thunderbolt" Ross, played by Harrison Ford, is expected to appear, and Anthony Mackie hasn't ruled out a cameo appearance from Captain America. Marvel has not confirmed Daniel Brühl's Baron Helmut Zemo's (possible) appearance.
Thunderbolts will introduce a "vital thing" to Marvel's cinematic universe and infuse it with "lots of action and comedy," according to Stranger Things season 5 star David Harbour, who has teased what we can expect.
Some MCU insiders have speculated that the script is currently being rewritten, which could push back the film's scheduled June 2023 production start date.
Please keep visiting Techballad.com for updates. Keep our site bookmarked so you can quickly return to check for new content, Like a Complete List of All Currently Valid Roblox Promo Codes for the Year 2022