Is It Too Late to Invest in Activision Blizzard? Microsoft (MSFT 1.99%) had planned to acquire Activision Blizzard (ATVI -0.97%) back in January for $68.7 billion (or $95 per share). Three months later, Activision Blizzard's stockholders gave their blessing, and Warren Buffett's Berkshire Hathaway bought roughly 10% of the video game maker as an arbitrage bet.
Activision's share price has been below $95 consistently, so it made sense to follow Buffett's advice for a while. However, as of this writing, the stock is trading at around $75, and regulatory impediments are multiplying.
Microsoft's bid for approval of the merger in China was denied by antitrust regulators; a new investigation was opened in Europe, and the Federal Trade Commission filed suit against Microsoft in the United States to prevent the acquisition.
There is widespread agreement amongst authorities that a Microsoft acquisition of Activision would give the software giant an unfair competitive edge in the video gaming industry. Is it now too late to make an arbitrage purchase of Activision Blizzard given all the obstacles it faces?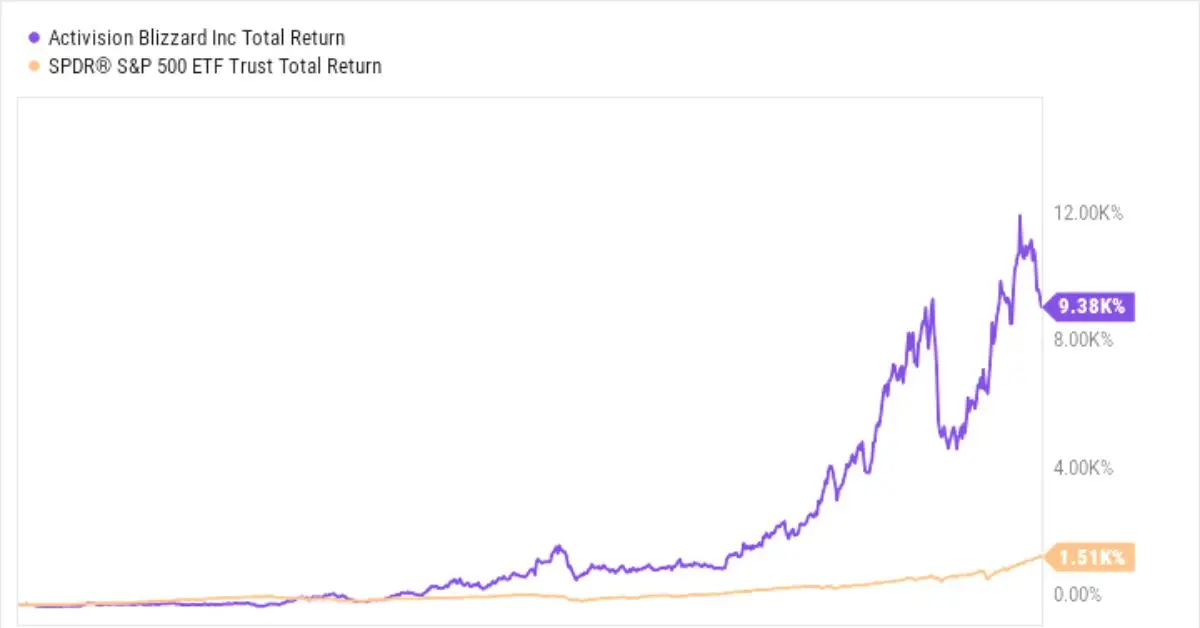 How is Activision Blizzard faring on its own?
The shares of the video game developer Activision Blizzard had dropped by about 30 per cent in the previous year when Microsoft made an offer to acquire the company.
A lot of its competitors in the industry also saw a drop in business after the pandemic, when people stopped playing video games and started spending more time outdoors.
MyPOV: see the following. https://t.co/HsHnRoNzRo

The FTC's bid to block Microsoft's purchase of Activision and its library could reshape cloud gaming, an area in which Microsoft already leads https://t.co/AapyOYuz1R

— @ces R "Ray" Wang 王瑞光 R.NFT 1A #CES2023 #Metaverse (@rwang0) December 12, 2022
Still, much of Activision's damage was done by the company itself. After a sexual discrimination and harassment lawsuit and subsequent staff walkouts, Blizzard delayed the release of Overwatch 2 and Diablo 4. Additionally, in November of last year, Jen Oneal, a recently appointed leader at Blizzard, quit after only three months on the job.
After Activision and NetEase's 14-year licencing agreement expired last month, the company ceased operating its Chinese gaming services. Last year, China accounted for around 3% of total income.
Activision In 2020, Blizzard's net bookings increased by 32%, while in 2021, they decreased by 1%. Its net bookings fell by 16% year-over-year in the first nine months of 2022. There were 368 million monthly active users at the end of the third quarter, a fall of 6% year over year across all three of its publishers (Activision, Blizzard, and King).
The sluggish growth of Blizzard's aged World of Warcraft and the challenging year-by-year comparisons to the explosive growth of Activision's popular Call of Duty game during the previous years are to blame for this decline.
Bookings growth is expected to accelerate significantly in the fourth quarter, thanks to the releases of Call of Duty: Modern Warfare 2 in October by Activision and Overwatch 2 as a free-to-play game by Blizzard, as well as new content for World of Warcraft and Diablo Immortal for mobile devices.
The FTC is ringing alarm bells over Microsoft's cloud gaming dominance with Game Pass. Here's why, despite cloud gaming's nacency, there may be cause for concern. Latest with @leah_nylen: https://t.co/tnxa83rdz6

— Cecilia D'Anastasio (@cecianasta) December 10, 2022
In light of this, the market anticipates a 29% year-over-year increase in Activision's net bookings for the holiday quarter and a 3% fall for the whole year. As those fresh titles find traction, they anticipate a 19% and 29% increase in net bookings and earnings for the company, respectively, in the coming year.
Given that Activision has stopped offering guidance since agreeing to be acquired by Microsoft, we should treat all of these predictions with caution. However, at 20 times ahead earnings and 6 times next year's net bookings, Activision Blizzard's stock appears appropriately valued.
Could Microsoft still pull off this deal?
At $75, Activision Blizzard could be an appealing investment, but if Microsoft decides to withdraw its support, the company may have a hard time rallying nearly 30% to $95 on its own. To others, relying on Activision's long-term recovery seems riskier than buying Microsoft, which runs a more diversified firm and trades at 26 times forward profits.
CWA comes out against the FTC's challenge of the Microsoft-Activision deal. The FTC "missed an opportunity to demonstrate that it takes the labor impact of mergers seriously." https://t.co/Y1eIdYcWpl

— Leah AntiTrustButVer1fy Nylen (@leah_nylen) December 9, 2022
Yet Microsoft is unlikely to simply walk away from the table. Microsoft has just inked a 10-year distribution deal for Call of Duty with Nintendo and offered the same terms to Sony to demonstrate that it will not make Activision's main properties Xbox and Windows exclusives.
Lots of excitement today about whether the EU is saying the FTC was wrong to partially justify its suit to block Microsoft's Activision bid due to Microsoft's promises to the EU about Bethesda/ZeniMax.

I chatted with the EU about this…

1/?

— Stephen Totilo (@stephentotilo) December 9, 2022
Microsoft could make further concessions to placate authorities who are concerned about the company's enormous portfolio of first-party publishers, which now includes Zenimax (Doom, Fallout, Skyrim), Mojang (Minecraft), and 343 Industries (Halo).
While I wouldn't rule out a return to $95 for Activision shares if the merger is approved, I wouldn't rush out to buy them either. At current prices, the video game industry's decline could be contained, but the industry as a whole may continue to be unpopular for the foreseeable future. Even in this down market, there are several intriguing technology stocks to pick from.
Frequently Asked Questions
Is the FTC suing Microsoft?
The Federal Trade Commission (FTC) stated on Thursday that it would file a lawsuit to prevent Microsoft from acquiring gaming behemoth Activision Blizzard. Despite sexual harassment and discrimination claims, as well as labour problems, Microsoft announced in January that it would acquire the company for $68.7 billion.
Who owns Activision Blizzard?
It's no secret that Microsoft's announcement to acquire Activision Blizzard King for $68.7 billion sent shockwaves through the gaming industry.
When does the Activision Microsoft deal close?
People from across our business groups and functions have been involved in this regulatory effort," said Microsoft CEO Satya Nadella. "I want to thank everyone of you for your diligent labour and commitment to completing this merger."
Does Microsoft own Activision?
The federal government is blocking Microsoft's $68.7 billion acquisition of Activision Blizzard, which was announced in January of this year. What is both Microsoft's largest acquisition and the largest deal in the gaming industry's history has prompted a lawsuit from the Federal Trade Commission.
Please keep visiting Techballad.com for updates. Keep our site bookmarked so you can easily return to check for new content Like Cyberpunk 2077 Phantom Liberty