Starting September 12th, iOS 16 can be downloaded. Discover the release date, new features, and device support for iOS 16. On June 6 during its annual World Wide Developers Conference (WWDC), Apple unveiled its major operating system improvements.
When it comes to Apple and its customers, the iPhone is king, making iOS the most crucial operating system upgrade ever. When iOS 16 was released in 2021, it lived up to the high expectations set by iOS 15 by including a plethora of new features.
You'll find out everything you need to know about iOS 16 and how it will change your iPhone experience in this post. We discuss the upcoming release of iOS 16, including its new features, a redesigned interface, and general availability, and provide information on how to obtain a beta version of the program.
iOS 16 Release Date
On September 12, Apple promised to release iOS 16. The corporation does not provide specific release times, but they normally occur around 10 am Pacific Time (1 pm Eastern, 6 pm UK time).
iOS 16 release date is September 12th !!! #Ios16 #AppleEvent pic.twitter.com/xDjIU61AmH

— Cody Brock (@cody_brock19) September 7, 2022
iOS 16 Beta Release Schedule
After being announced at WWDC in June, the first beta of iOS 16 (for developers only) was published right away, but public beta testers had to wait until July 11.
Over the next few weeks, Apple will release a number of beta versions of iOS 16 to developers and the general public, all of which will lead up to the eventual public release of iOS 16.
Each Public beta version listed below is based heavily on the Developer beta version that came before it.
June 6, 2022: iOS 16 is unveiled at WWDC
June 6: iOS 16 Developer beta 1 is released to registered developers
June 22: Developer beta 2
July 6: Developer beta 3
July 11: Public beta 1
July 27: Developer beta 4
July 28: Public beta 2
August 8: Developer beta 5
August 9: Public beta 3
August 15: Developer beta 6
August 15: Public beta 4
August 23: Developer beta 7
August 25: Public beta 5
August 29: Public beta 6
September 7: The release candidate is out (this is the final version before the launch)
Apple provided eight betas to developers while working on iOS 15 before finally releasing the final product. Here you will find information on how to enroll in the Developer and Public betas.
iOS 16 Compatibility
Which Apple devices can install iOS 16?
Any iPhone 8 or later from the last five years can update to iOS 16. Yes, that's the big news, but not all devices will enjoy the full iOS 16 experience just yet.
For instance, the new Live Captions accessibility function is only available on iPhone 11 and after, according to Apple, while Door Detection and People Detection require the LiDAR scanner on iPhone 12 Pro and later.
Much has changed since this time last year. Apple revealed at WWDC 2021 that the iPhone 6s (2015) and the original iPhone SE would be compatible with iOS 15. (2016). In addition to them, the iPhone 7 is also no longer supported. It could be time for an upgrade if you're using one of these older iPhones.
iOS 16 New Features
Apple's latest operating system, iOS 16, is a substantial upgrade. There aren't any major changes to the iPhone with the new update, but there are some intriguing new features that will make using an iPhone entertaining again come fall.
The Lock Screen in iOS 16 will be highly customizable (you'll be able to change the background color and text style, for example) and upgradeable with widgets to monitor the weather, your Activity rings, or any other data you require quick access to. And, much like the Apple Watch's faces, you'll be able to set up a few different Lock Screens, each with its own background image and widgets.
Battery Percentage Indicator
Though it may seem inconsequential, many iPhone owners were dismayed when Apple removed the battery % indicator from the top of their screens in 2017. (Of course, the notch on the iPhone X was to blame.) You'll be happy to know that it's returning in iOS 16, although for a limited number of devices.
Of course, not everyone is thrilled with the new battery icon introduced in iOS 16 Developer beta 5 (seen above), so one developer went so far as to make a replacement. We're crossing our fingers that Apple listens to the criticism and improves the product before it's released to the general public.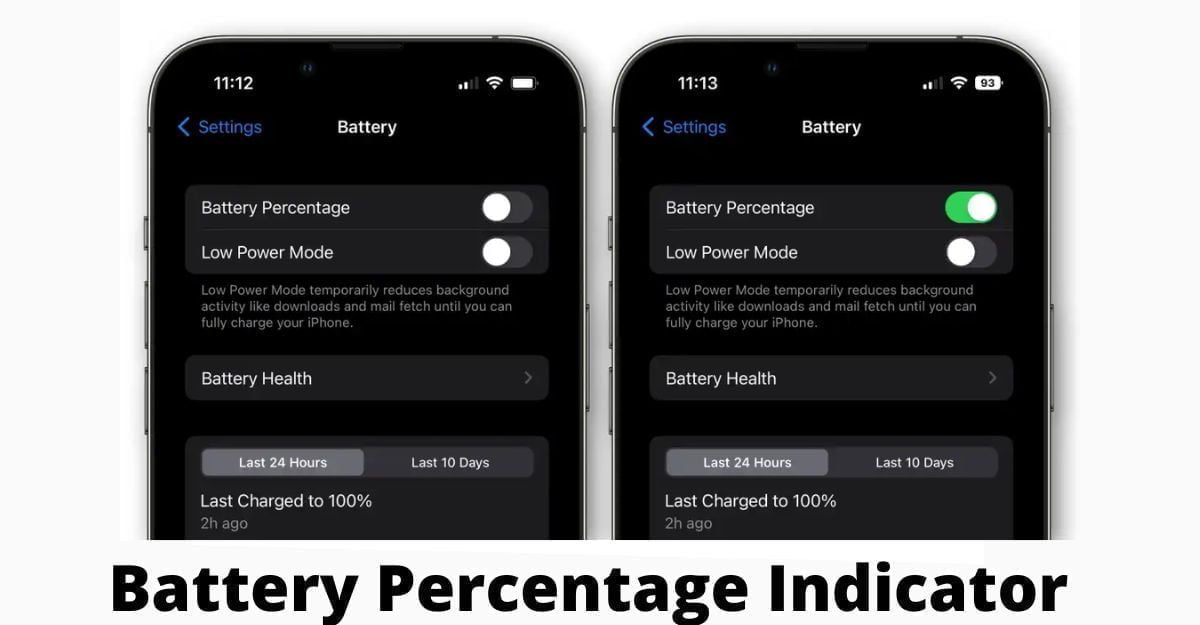 This is now presented in a more intuitive fashion by rolling in from the screen's bottom.
You may now pair your preferred Focus mode with the Lock Screen, widgets, and Notification preferences. Apple suggests using a "data-rich Lock Screen" in the Work Focus mode, and a "picture Lock Screen" in the Personal Focus mode.
Swiping to a specific Lock Screen will activate its related Focus mode. Also new are Focus Filters, which let you hide all but work-related notifications from Messages and Mail, or limit the Safari tabs you view to those that pertain to the current project you're working on.
iOS 16 will provide much-needed enhancements to dictation, making it the best it's ever been. All of the new dictation tools in iOS 16 are covered in their own dedicated guide.
The new and improved Dictation will allow you to enter and modify text with just your voice. As you dictate, punctuation symbols like commas, periods, and question marks will be added automatically.
The TrueDepth camera on the iPhone will be used to establish a unique profile for Spatial Audio in the AirPods 3, AirPods Pro, and AirPods Max, resulting in a more precise and immersive listening experience.
A new feature of iOS 16 is haptic feedback for iPhone keyboards. When you press a key on the keyboard, you'll feel a slight "tick" thanks to the Taptic Engine. Read "How to Enable Keyboard Haptic Feedback in iOS 16" to find out how to use the functionality.
Live Text and Visual Look Up
Live Text can now be used with moving pictures as well as stills. When you pause a video, the text becomes 'live,' so you can copy it or translate it. Apple claims that with Live Text, you'll have faster access to translation and currency conversion capabilities.
Updates are also made to the corresponding Visual Look Up function, which was first introduced in iOS 15 and uses AI to recognize commonplace objects like flowers, animals, and landmarks in your photographs.
Now, not only can it identify human faces, but also birds, insects, and even monuments! On the other hand, it can use the same AI to recognize the borders of items in photos, letting you tap and hold to extract them and send them to other programs like Messages.
Find the adorable dog in the picture. Copy and paste it into an iMessage for your friends to enjoy as well. Learn how to quickly remove the subject from almost any photograph.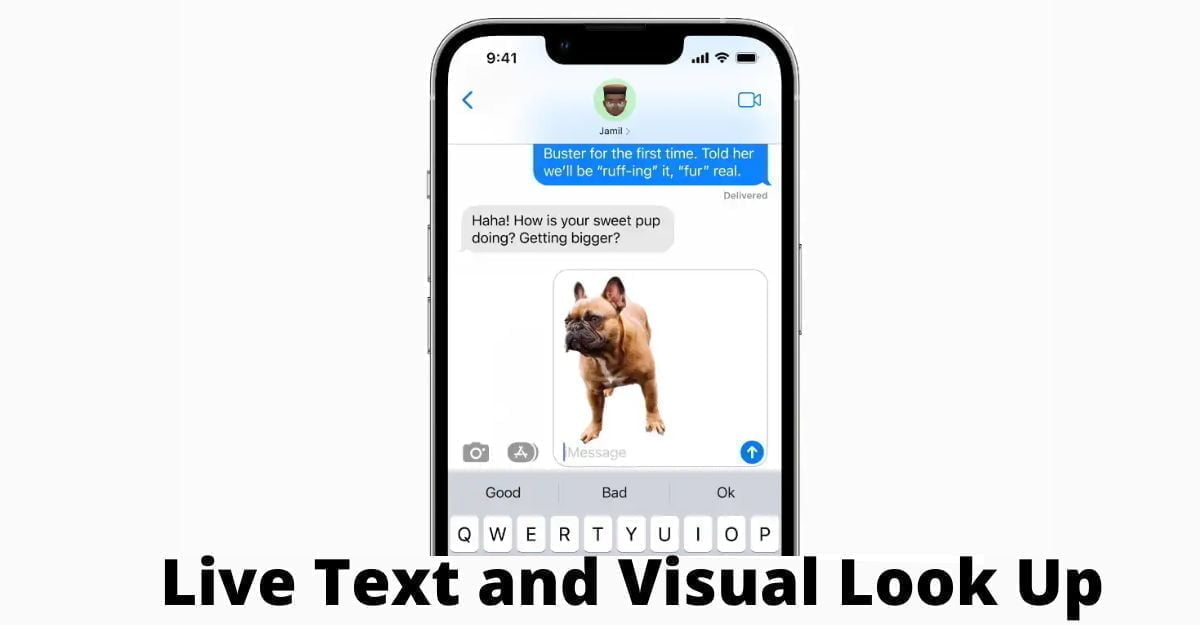 With Siri's new Easy Shortcuts setup, you can begin using shortcuts as soon as you download an app, without any preparatory work. You can also send texts without Siri prompting you for confirmation.
With the addition of the "Hey Siri, what can I do here?" command, users will be able to learn more about Siri's capabilities in iOS and apps. Additionally, you can terminate calls by saying "Hey Siri, hang up."
With Search on the Home Screen, you can quickly launch apps, locate contacts, and research the web by invoking Spotlight from the Home Screen's bottom.
It's expected that the bundled Apple apps will undergo a variety of updates, including:
Apple just updated Messages with three major updates. You have the option to 1) unsend a message after sending it, 2) amend a message you've already sent, and 3) mark any thread as unread. Less dramatically, a wide variety of new visual features, including as hairstyles and headgear, nose shapes, and stances, are available for use in personalizing your Memoji.
Timed deliveries and a brief retrieval feature are among the new features here. The new Remind Later and Follow Up capabilities in Mail will remind the user or the receiver to respond to an email if they haven't yet.
In addition, Mail will be able to identify and notify users about forgotten attachments. Please refer to this page for information on erasing and modifying texts sent from an iPhone. We also discuss how to undo an email send in Mac Mail.
Maps' new multi-stop routing feature will allow you to add up to fifteen stops along your trip. When you add a transit card to Wallet, you may check its amount and reload it without ever leaving Maps. Fare estimates for the Bay Area, London, New York, and San Diego's public transportation systems are also provided.
You can collaborate on a bunch of tabs at once in Safari by adding them to a "Shared Tab Group," which everyone can then quickly view as it is updated in real time.
Each Tab Group can have its own unique start page with a separate background image and favorite apps. In Tab Groups, you can pin tabs to quickly access frequently used resources. Sites in Turkish, Thai, Vietnamese, Polish, Indonesian, and Dutch will soon have their translations added to Safari's built-in translation tools.
A FaceTime call can be easily transferred from an iPhone to an iPad or Mac using the app's "Handoff" feature.
Sticker packs for Memoji will expand to include new expressions, hairdos, hats, noses, and lip colors.
Using Quick Note, you can make a note in any iPhone app and annotate it with links to provide context and make it easy to retrieve later.
A newly updated Home app will streamline the process of managing your smart home's devices. To get a bird's-eye view of your home, all your devices, rooms, and scenarios will be consolidated under the "Home" page. Lighting, temperature, security, audio/visual, and water will all have their own tabs, so you can quickly find what you need.
The tabs will also provide more in-depth status information. In addition, the Home tab now prominently features a camera view that shows up to four cameras at once; to view other camera views, simply scroll down.
Photos' built-in duplicate photo finder makes it easy to organize your collection by discarding unnecessary copies. In addition, you may get a more natural appearing depth-of-field effect by blurring items in the foreground with Camera's Foreground blur setting for portrait shots (iPhone 13, iPhone 13 Pro, and iPhone 13 Pro Max).
Using the camera, the Translate software will translate any text you come across.
Favorite lists can be "pinned" for easy access.
Obtains support for in-app ID verification, which is helpful if you want to avoid disclosing personal information to a third party but still need to show, for example, that you are over the age of 21. Wallet now has the capacity to exchange digital keys via iMessage, Mail, and WhatsApp.
Here, Apple introduced two new services: Apple Pay Order Tracking and Apple Pay Later (which allows users to split the cost of an item into four equal payments over a period of six weeks, originally in the United States only) (which provides receipts and order tracking information in Wallet for purchases made using Apple Pay).
Making a list, setting up reminders and appointments at convenient times, and looking back at your prescription history are all part of the new drugs tool.
Using the camera on your iPhone, you may add prescriptions (iPhone XS, iPhone XR and later). When adding a new drug to your routine, you can rest assured that you will be notified immediately if there is a potentially dangerous interaction.
If your tracked menstrual cycles reveal a trend of absent periods, irregular periods, exceptionally extended periods, or chronic spotting, you will receive a message about a possible cycle deviation.
Family and friends will be able to send you their health records in a safe and simple manner, and you will be able to do the same for them.
The My Sports feature on the News app will make it simple to keep tabs on your favorite clubs and leagues, as well as catch up on the day's highlights.
Use Favorites to pin the most-read channels and subjects to the top of your Today feed for quick access. The homepage will get a graphic refresh, making it easier to navigate and adding subject feeds for local news, sports teams, and leagues.
Security Features
Apple, per usual, is updating its products in a number of ways to strengthen security and privacy.
The use of passkeys is recommended as it provides a more convenient and secure alternative to traditional passwords. Thanks to iCloud Keychain, you can securely sync your passcodes across all of your Apple devices without compromising on privacy.
The process of creating a child's account with the proper parental controls, such as age-appropriate media limitations, will be simplified with the next updates.
Quick Start will allow you to quickly and easily implement the safety settings you've chosen on a brand-new iOS or iPadOS device for your child. When your child asks for screen time, you may easily accept or reject their request via Messages.
The Plus Family Checklist will provide you with useful information and ideas, such as recommending that you update your child's parental control settings, advising that you enable location sharing, or just reminding you to include everyone in your family on your iCloud+ plan.
This handy privacy tool allows you to keep track of the people you've granted access to your account and instantly remove their permissions if necessary, making it very useful for victims of domestic violence and other similar situations. The feature allows you to restrict Messages and FaceTime to the current device and alter the privacy settings for system apps.
With emergency reset, users may swiftly take steps to revoke access for all individuals and apps. This includes resetting privacy rights for apps, turning off location sharing through Find My, and more.
Accessibility Features
A door detector finds a door, interprets any signs or symbols near it, and provides access directions (iPhone 12 Pro and iPhone 13 Pro).
When paired with an iPhone, Apple Watch mirroring allows for complete management of the wearable device via the host device. This includes the ability to make use of accessibility features like Switch Control, Voice Control, and others to make the most of an Apple Watch.
If you or someone you know has trouble hearing, Live Captions (beta) can automatically transcribe audio so that you can follow along with calls and media (iPhone 11 and later).
A buddy controller combines the inputs of two or more gaming controllers into a single device, allowing a player with a cognitive disability to get assistance from a caretaker or friend while playing a game.
Over twenty additional languages and regions, including Bangla (India), Bulgarian, Catalan, Ukrainian, and Vietnamese, will have access to VoiceOver.
If you want to dictate the spelling of a name, an address, or some other word, you can use the Voice Control spelling mode.
Miscellaneous Changes And New Features
These are just the most notable additions to iOS 16; after downloading it this autumn, you'll have plenty of time to explore and learn about all of the other changes. Some may merely smooth out your typical day, while others will have deeper meanings.
For the first time, perhaps, users will be able to update their AirPods manually if the firmware information is provided differently. Verifying your device and account may now be done in the background, eliminating the need to solve CAPTCHAs.
We've compiled a list of the minor tweaks and improvements that will have a major impact on your iPhone experience.
Learn more about the most exciting new features in iOS 16 and our thoughts on which ones you'll actually use by reading our guide to the best new features in iOS 16.
Updates Coming In The Future
Some hoped-for enhancements and new features will be delayed until a later release this year. Case in point:
iCloud Shared Photo Library
Apple advertises this as "the finest way to share images with your family," and it does look promising.
Once the shared library is set up, all users have access to the same set of photos, along with any annotations or tags that have been applied. The sophisticated automations you can use to share images based on when they were shot, who is in them, or who is around at the moment might be the most intriguing part.
Unfortunately, iCloud Shared Photo Library isn't included in the base version of iOS 16 but will be in a future update.
Now you can check in on your favorite teams' games, your Uber ride, your gym progress, and more straight from your Lock Screen with the new Live Activities feature. These features, which may be thought of as persistent notifications that are updated in real time by the connected apps, will not be included in the first release of iOPS 16. "Later this year," as the phrase goes, the functionality will be made available.
Game Center Features
To play a game with a friend while on a FaceTime conversation, Game Center is adding support for SharePlay. This function will be included in the upcoming iOS 16 upgrade, which is scheduled for release later this fall.
The new whiteboarding and collaboration tool, Freeform, was demonstrated as part of iPadOS 16 at WWDC, but it has always been planned for a later release this year. Since the release of iPad 16 has been delayed, there is no telling when Freeform will be made available; it could come out as late as 2023.
Apple's Home app will be updated in iOS 16 to include support for Matter, a new and much-needed smart-home compatibility standard that includes Apple Home, Alexa, and Google Home, among others. Apple is still one of the early adopters despite the fact that we now know that Matter support won't arrive until later this year.