You have the opportunity to enter the Harry Potter world and go on your very own magical adventure with Hogwarts Legacy. Fans of the Harry Potter series have been waiting patiently for an open-world wizarding adventure like Hogwarts Legacy, which was created by Avalanche Software and released by Warner Bros. Games.
You can tour the Hogwarts campus and buildings, visit well-known spots in the larger wizarding community, and pick up a tonne of new spells and potions. Many aspects of the game will be familiar to fans of the franchise, but it seems like there is a great emphasis on creating your own unique adventure.
As a result, Hogwarts Legacy will have an entirely unique plot set in the 1800s that will remove players from the timeframe of the books, movies, and characters they are familiar with.
Keep reading for what we know thus far if you want to stay current on all the Hogwarts Legacy information that has been revealed and explore the most recent rumors, too.
Cut To The Chase With Hogwarts Legacy
Finally, a release date for Hogwarts Legacy has been made public. On February 10, 2023, it will be released for the Xbox One, Xbox Series X, Xbox Series S, PS5, PS4, and PC. While a Nintendo Switch version is also on the way, Warner Bros. is unsure of its release date as of this writing.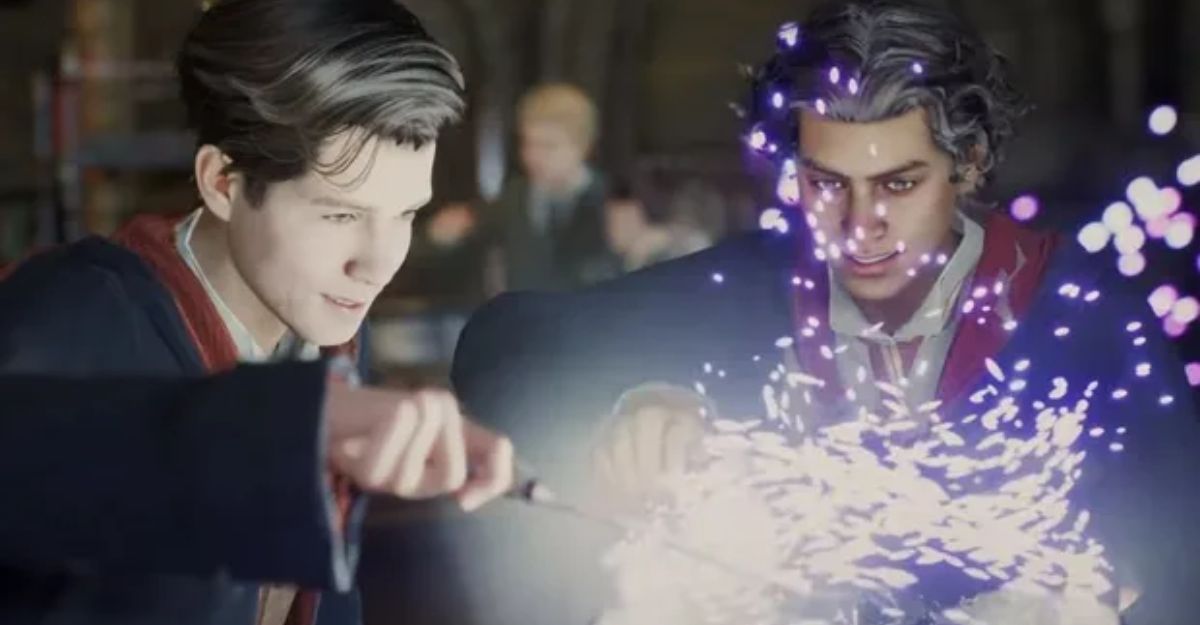 According to Bloomberg, Hogwarts Legacy would launch on next-generation platforms in 2021 when it originally leaked. Although the publisher Portkey Games admitted extra time was needed to bring the game in top shape, the game was officially postponed to 2022 at the beginning of 2021.
With the developer claiming on Twitter that it needed "a little extra time to offer the finest possible gaming experience," this was moved up a little bit to the current release date in August 2022.
Hogwarts Legacy will launch on February 10, 2023 for PlayStation, Xbox, and PC. The Nintendo Switch launch date will be revealed soon. The team is excited for you to play, but we need a little more time to deliver the best possible game experience. pic.twitter.com/zh0EsOvDb7

— Hogwarts Legacy (@HogwartsLegacy) August 12, 2022
Legacy Story And Setting From Hogwarts
RPG Hogwarts Legacy takes place in a vivid, open universe. Hogwarts Legacy is putting some space between itself and the familiarity of the books and movies by transporting you to the wizarding world of the 1800s, but fans of the Harry Potter series have been reassured that the game will be "firmly entrenched in the Harry Potter universe."
According to the developer, their goal is to "track new ground by developing novel ways for fans to fully immerse themselves in the wizarding world."Throughout case you were concerned that Hogwarts Legacy would merely leave you wild in the school with no adventure at all, there is an original main tale that goes throughout the game.
You will enroll in Hogwarts in your fifth year after surviving some sort of unexplained incident, according to a post on the PlayStation Blog.
Your persona allegedly "has ties to an old magic," which would "send you on a collision course with a goblin insurrection led by Ranrok, assisted by his partnership with the Dark wizard Victor Rookwood, who both constitute tremendous threats to the entire wizarding world."
Ragnarok "has glimpsed a flicker of a magic that wizardkind fought to hide – even from themselves," the post claims, and he specifically desires that power. His hate of wizards has distorted his perspective, making his relationship with Victor Rookwood particularly shaky.
No one will be able to stop Ragnarok once he achieves his goals, and the wizarding world will be destroyed. You will need to cooperate with Professor Eleazar Fig in order to discover the mysteries underlying the enigmatic magic and put an end to Ranrok's uprising.
Since Hogwarts Legacy is set in the past, there aren't many well-known characters from the books and movies, therefore it's not your fault if you don't remember the name Professor Fig. However, there might be a few spectral figures that you recognize, like Nearly Headless Nick.
The absence of well-known faces won't likely worry you too much, though, as you'll be meeting a whole host of new people as a fifth-year student who has just arrived at Hogwarts.
The Hogwarts Legacy Game
According to an official FAQ, Hogwarts Legacy is a single-player-only game with no multiplayer or cooperative options.
With that emphasis on the solo experience, it seems like the game is all about creating your own unique journey through the wizarding world. Considering what we saw at the Hogwarts Legacy gameplay reveal, it should come as no surprise that you'll be able to build your own character in a character maker.
Live the Unwritten. Pre-order #HogwartsLegacy now on https://t.co/wJqoh9Il4s. pic.twitter.com/W7VmfBjT5J

— Hogwarts Legacy (@HogwartsLegacy) August 25, 2022
The character generator for the game will allow players to select their character's physical type, voice, and gender placement for school dorms, according to a Bloomberg article. The report states that sources "familiar with the game's development" have divulged this.
In addition, players will be given the option of selecting a male or female voice, regardless of the physical characteristics of their character, and whether they want to be a "witch" or a "wizard," with the latter choice affecting how other characters in the game approach them.
There will be classes to catch up on and new acquaintances to make once you've chosen your residence and established your character. You'll develop such relationships, which will give another layer to the social component of the narrative.
Your new magical friends will be able to impart skills to you and accompany you on missions and adventures. You'll spend your school hours learning how to cast spells and charms, make potions, and take a variety of classes so you can graduate with your peers.
The new spells and skills you pick up from your teachers and fellow pupils can be applied to puzzles and combat throughout the game's larger environment. Your ability to study a variety of spells will provide you with a variety of battle options.
For instance, players can enter the room "all wands blazing" or take a covert approach by casting a Disillusionment spell. Different strategies will be needed to combat the strengths and weaknesses of the opposition, which should keep every battle interesting.
You can tour the school during your free time, finding famous filming locations and hidden tunnels with puzzles to solve. There are also a few places we haven't seen in the movies, like the common area in Hufflepuff.
In light of this, don't worry if you're unsure of which House you'll be placed in. You'll have the freedom to decide for yourself. Players can select their House at the outset of the game, according to the Hogwarts Legacy website. However, we have no idea how the decision will be made or whether houses will be able to be amended in the future.
The State Of Play Trailer For Hogwarts Legacy Shared A Lot
Hogwarts Legacy's dedicated State of Play presentation, which lasted for about 15 minutes and reminded players of the wide range of activities they will be able to enjoy throughout the game, was the only significant showcase that the game has so far provided.
These include wand duels, in which players can use offensive and defensive spells to engage in open-world fighting or classroom demonstrations, and harvesting several varieties of magical flora inside the player's personalized Room of Requirement.
In fact, Hogwarts Legacy's State of Play presentation placed a lot of emphasis on the game's combat, which appears to be dynamic and fluid as the player and adversaries trade spells back and forth while using a wide variety of abilities.
Players will also be able to equip a mandrake to render adversaries helpless, for instance, indicating that classes and time spent studying herbology will be crucial to the development of a vibrant and dynamic game.
The castle grounds, Hogsmeade, and other areas that can be explored by players who use broomsticks, foot, or Floo Network fast travel have also been covered in some detail. That said, no showcase or trailer has yet to be as important as the State of Play, except the aforementioned glances into Hogwarts' interior and exterior.
News And Rumors From The Hogwarts Legacy
Fans of Hogwarts Legacy may have caught a fleeting glimpse of the game's UI by attentively examining the gameplay demoed during the Sony event in March.
Menu items with what look to be four equipped spells and possibly a small map appear for a brief period of time, as reported on the HarryPotterGame subreddit. Given that the game is still in development, it is very possible that the UI that is displayed is a placeholder.
No upgrade route to next-gen?
Pre-orders for Hogwarts Legacy have begun to emerge at US and UK shops. According to VGC, with these pre-orders, the game appears to cost roughly $60/£60 on the last-gen PS4 and Xbox One compared to a little under $70/£70 on the PS5 and Xbox Series X.
It is yet unknown, though, whether the Xbox version of the game will feature Smart Delivery or whether there will be any sort of paid or free upgrade path offered with it.
No small-scale transactions
Avalanche Software has stated that Hogwarts Legacy won't include any microtransactions. Hogwarts Legacy does not include in-game purchases or microtransactions, as stated directly in the game's FAQ, but Avalanche Software's community manager, Chandler Wood, reiterated this on Twitter.
Wood added, "We've seen this subject coming up and want to clear the record. "In Hogwarts Legacy, there are no microtransactions."
Hogwarts Legacy's Scheduled Debut
Originally scheduled for release at some point in 2021, Hogwarts Legacy won't be available until 2022 due to a recent postponement. The PS4, PS5, Xbox One, Xbox Series X, and PC platforms will all receive the game.
Currently unconfirmed are the visual differences between these generational gaps, although it is definitely safe to assume that Hogwarts Legacy will appear better on PS5 and Xbox Series X.
Warner Bros Games and Avalanche Software are the companies behind the game's development and publication. Avalanche Software previously worked on Cars 3: Driven to Win, thus Hogwarts Legacy is a significant size increase for them.
Hogwarts Legacy didn't feature at E3 or Sony's PlayStation Showcase in 2021, thus we didn't get to see it too much. We would have seen more of Hogwarts Legacy at The Game Awards in December, according to a claim made by video game statistics researcher Millie A. on Twitter.
It's not implausible that she has inside knowledge because she alluded to the existence of a Wolverine-related project long before Insomniac's Wolverine had a teaser. Sadly, it wasn't the case. As exposes and trailers are frequently dropped at the last minute, it doesn't necessarily follow that she was incorrect.
In an interview with Toy World Magazine, Warner Bros. general manager Rachel Wakely made the implication that Hogwarts Legacy would debut after Fantastic Beasts: The Secrets of Dumbledore. It's improbable that the game will arrive in the first half of 2022 given that the movie opens in April.
How does Hogwarts Legacy fit into the Harry Potter Wizarding World?
Although the Portkey Games are not literal adaptations of the books or movies, they are set in the same magical environment as the Wizarding World and feature many of the same characters. The game designers at Portkey, while staying true to J.K. Rowling's original vision, are venturing into the uncharted ground by developing innovative new ways for fans to immerse themselves in the Wizarding World.
Frequently Asked Questions
It is what?
It is a role-playing game with a historical setting based on the Harry Potter series.
Can I play it when?
10 February 2023.
What can I use to play it?
Nintendo Switch, PS5, Xbox Series X/S, PS4, Xbox One, and PC.