High on Life Release Time: High On Life's release in PDT, EST, and UK GMT is rapidly approaching, and the good news is that it will be accessible on Xbox Game Pass for consoles and computers. The first batch of Microsoft's Xbox Game Pass games for December 2022 has been fantastic. The recently released Lego Star Wars Skywalker Saga and the day-one release of the stranger danger simulator Hello Neighbor 2 have been a blessing. While the two titles mentioned above are excellent additions to the Microsoft subscription library, tomorrow will be the day when everyone may enjoy Justin Roiland's most recent work of genius.
What Will be the High on Life Release Time?
High On Life will be available for Xbox Game Pass at 16:00 Pacific Time, 19:00 Eastern Time, and 00:00 GMT on December 12 and December 13 respectively. The Microsoft shop is responsible for all of the aforementioned hours. The Steam countdown indicates that it will go live in 22 hours and 9 minutes at 09:00 GMT on December 12. This means that it will go live for PC at 23:00 PT, 02:00 ET, and 07:00 GMT on December 13. For PC, it is also offered on the Epic Games shop. Unfortunately, as of this writing, there has been no word about a PlayStation release date.
What Xbox Game Pass Features is It Compatible With?
Starting on December 13th, Xbox Game Pass will provide High On Life for PC and console. The month of December, which has already witnessed the release of Hello Neighbor 2, is another day-one addition. The additional titles that will be joining Microsoft's subscription service as part of wave 1 this month are listed below:
Potion Craft (Console and PC) – December 13
Rainbow Billy: The Curse of the Leviathan (Cloud, Console, and PC) – December 15
Preload Time High on Life Xbox 
Thanks to the Xbox Game Pass, you may now download the whole High on Life preload on your Xbox console (or PC) before the game launches. Simply open the Xbox Game Pass app, navigate to the "Coming Soon" area, choose High on Life, and then choose "Pre-Install."
Download Size of the High On Life Xbox 
At launch, the High on Life download is about 45GB. There is always a risk that a day-one update will significantly increase the size, but we haven't received any particular information on this.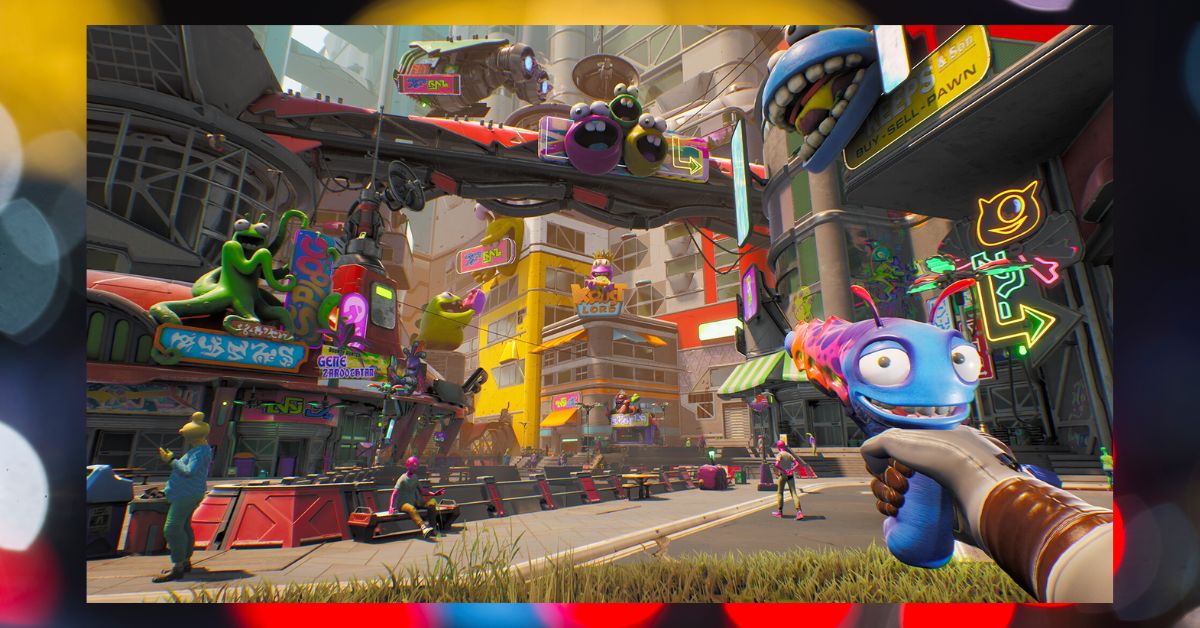 High On Life Story & Setting
Our knowledge of High On Life's setting and distinctive organic sci-fi art direction is based on all of the trailers, dialogue, and descriptions that we have seen and heard so far. When a merciless alien cartel suddenly invades Earth and tries to use mankind as a drug, literally getting high off human bodies, you play as a human just out of high school with no job or ambitions. You must develop into a cunning interstellar bounty hunter in order to find and defeat Garmantuous, the commander of the alien armies.
High On Life will feature a stupid, immature, and comic tone as you might anticipate from a game being created by the co-creator of Rick and Morty, complete with a lot of cursing, adult jokes, the fourth wall breaks, weird characters, and absurd settings. High On Life may turn out to be one of the finest Xbox games for players seeking a laugh because, overall, we anticipate that its tone will be very similar to what gamers have come to expect from Borderlands.
High on Life Gameplay
High On Life's recent gameplay footage from Gamescom 2022 gives us reason to believe that the shooter will have an action-adventure feel, allowing players to travel across the galaxy and eliminate various alien bounty targets (possibly non-linearly) as they get closer to locating the antagonist Garmantuous. You'll save several different talking weapons along the way, expanding your arsenal as you go. Along the trip, you'll also run into a lot of strange and quirky people that might help or hurt you. You'll also have the chance to hunt down intergalactic criminals for added prizes.
Overall, it appears like your main tools for both fightings and non-combat situations will be talking weapons from High On Life. These weapons come with special abilities that can be employed in a variety of various ways in addition to enabling you to fire, stab, or otherwise kill foes. For instance, the pistol-style weapon Kenny can discharge a big glob of goo that can crowd control foes by pushing them back and toppling objects down so you can use them as platforms. The player's melee weapon, Knifey, can be used to unlock Lugloxes, tether, swing between grappling points, and deflect opponent bullets (containers with money and other loot).
High On Life includes boss bouts with your bounty targets that demand expert use of your weaponry, much like the boss fights in Borderlands. The gameplay footage displayed during Gamescom 2022 included one of these bosses, a ferocious ant queen by the name of 9-Torg. To swing from the ceiling and dodge poisonous goo in the boss arena while inflicting damage to 9-Torg and her minions with Kenny, the player must employ Knifey's tether ability during the battle.
For my Xbox series s it says this right this very second #highonlifegame and #highonlife pic.twitter.com/YORmg9Obq3

— Bws_Demonic (@bws_demonic) December 11, 2022
High on Life Development and Reveal
High On Life was initially unveiled during the Xbox & Bethesda Games Showcase 2022 show that was held on June 12, 2022, during the E3 season, along with many other future Xbox and PC exclusives. High On Life immediately rose to the top of the list of upcoming Xbox games that are most eagerly awaited by fans who enjoy chaotic shooter action and hilarious writing thanks to the game's introduction trailer.
The game is being created by Squanch Games, which has produced the action platformer Trover Saves the Universe and the VR games Dr. Splorchy Presents: Space Heroes and Accounting for Google Daydream. Justin Roiland, a co-creator of Solar Opposites and Rick and Morty, founded it. Roiland not only created these adult sitcoms but also provided the voices for many of their characters. Some of the other TV shows to which he has contributed include Adventure Time, Gravity Falls, Out There, and Pig Goat Banana Cricket.
Official Trailer of High On Life 
High on Life has had several trailer releases from Squanch Games, and additional gameplay will be shown at events. A boss battle against the bounty target 9-TORG was depicted in gameplay displayed during Gamescom Opening Night Live 2022. The initial announcement video was brief and only included a few locations and some of the available talking firearms.
Frequently Asked Question
What time will High On Life be available?
The precise release date of the game for each platform is listed below: Xbox/PC The Game Pass 12 December, 4 PT/7 ET, North America. December 13 at 12 a.m. UTC/1 a.m. CET in Europe.
What time does High On Life come out on game pass?
High On Life will be available for Xbox Game Pass at 16:00 Pacific Time, 19:00 Eastern Time, and 00:00 GMT on December 12 and December 13 respectively.
Can I play High On Life early?
High On Life cannot be played early. Due to the New Zealand release time, there is no early access pre-order incentive, and it is also not able to employ the well-known NZ method to unlock a day before debut. The game debuts on PC, Xbox platforms, and Epic Games' Steam platform.
Is High on Life Coming to Steam?
High On Life will launch on December 13 with Xbox Game Pass (Cloud, Console, and PC) will be accessible only on Xbox & PC.
READ MORE:
We hope you have found the relevant information. So if you like this article, then please share it with your friends and family. Stay tuned with us here at techballad.com for further updates.