Halo Infinite Winter Update Released: Halo Infinite's long-awaited Winter Update finally arrives with some long-overdue improvements that the game really should have had at launch in 2021. There were some hiccups in the making of the mode, but the campaign co-op is now here with this update after being planned for August.
The much-awaited beta release of Forge brings with it the ability to create custom maps for usage in different game modes. In addition, several changes and additions have been made to the game itself. Here, I'll tell you when the Halo Infinite Winter Update will become available for download in your specific time zone.
Halo Infinite Winter Update Release Time 
On November 8 at the weekly reset time, players in most territories received the Halo Infinite Winter Update. Based on your local time, here's when that occurred:
US EST: 1 pm EST
US PST: 10 am PST
UK: 6 pm GMT
Europe: 7 pm CEST
Tokyo: 3 am JST (November 9th)
Australia: 5 am AEDT (November 9th)
New Zealand: 7 am NZDT (November 9th)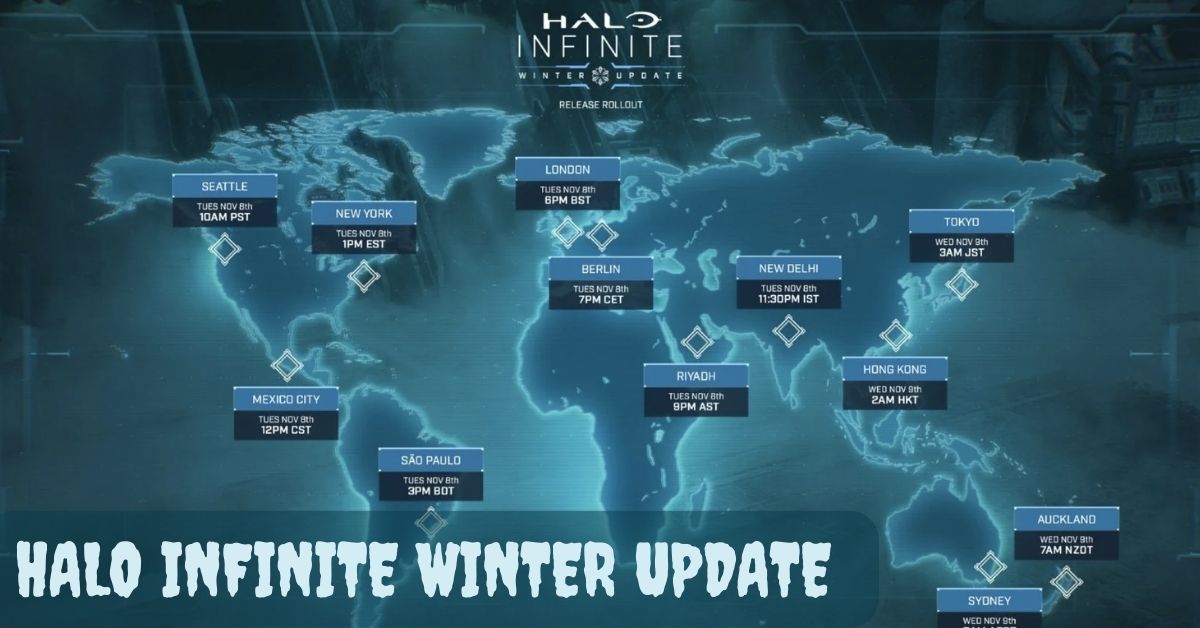 In the graphic that is located above, which was provided by 343 Industries, you will find a comprehensive breakdown of all time zones. Time may vary slightly if there are technical difficulties or if a large number of people join in at once to experience the update.
What's in the Halo Infinite Winter Update?
The Winter Update is the largest single addition to Halo Infinite's content since the game's release. It will have the long-awaited campaign co-op option and the beta version of Forge, allowing you to begin making your own maps immediately. There are also new maps, a free battle pass where you can unlock cosmetics, and a multiplayer mode called Covert One Flag. The video up above features a complete recap of everything mentioned here.
Halo Infinite Winter Update Playlists
The playlist plan that was released at the same time as the Winter Update on November 8th is as follows:
Permanent Playlists
Quick Play
Big Team Battle
Ranked Arena
Fiesta
Tactical Slayer
Team Slayer
Rotational Playlists
Rotational Core Slot – A playlist similar to the core Halo gameplay experience (Team Snipers, Team Doubles, etc.)
Rotational Social Slot – A playlist closer to the social and funnier side of Halo (Social Slayer, Big Team Social, Rumble Pit, etc.)
Rotational Ranked Slot – A playlist aimed at a competitive experience (Ranked Doubles, Ranked FFA, etc.)
Halo Infinite Winter Update Maps 
With the Winter Update, 2 new maps are being added. They are:
Argyle is one of the initial multiplayer levels for Halo Infinite, and it takes place in the cramped halls of a UNSC ship. This compact indoor symmetrical map is a competitive arena that only scratches the surface of the possibilities of the Forge editor.
Detachment is a brand new symmetrical arena level for Halo Infinite that was also created entirely in Forge. Located on a rocky outcropping, this decommissioned UNSC research centre features both indoor and outdoor settings, making it suitable for a wide range of game modes and play styles thanks to its dynamic warfare.
Final Words 
The Halo Infinite Forge mode has been updated with this patch. With Forge, players may make their own multiplayer maps and game types, which they can then share with the rest of the community from the main menu's Community section. By using Forge, users can position and tweak various game elements including effects and scripts to make their own unique level.