God of War Ragnarok: In this respect, God of War: Ragnarok is a major improvement over previous entries in the series. Video game fans had a banner year in 2018 thanks to blockbuster releases like Red Dead Redemption 2, Marvel's Spider-Man, Dark Souls Remastered, Shadow of the Tomb Raider, and many others.
Nonetheless, God of War was the best video game of 2018, and no other game even came close. This new take on Kratos's foray into Norse mythology had it all: a fantastic narrative, classic gameplay mechanics, and a substantial story arc. One may argue that it was ideal. 
However, God of War: Ragnarok has recently been released and is causing a sensation around the globe. The gameplay is praised by some, and the story by others. While opinions may vary on what makes God of War: Ragnarok such a great sequel, almost everyone can agree that it was a masterpiece in its own right in 2018. Let's check it out. 
So

God of war Ragnarok looks promising though I don't know if that's me or if the game looks the same like 2018, I don't care tbh I want the new gameplay additions/improvements since some of them looked very intriguing

And gt7 now open world supposedly? Will be interesting pic.twitter.com/NY1O6so0uI

— Mutasim 🇲🇦 (@mutasimfadalla) September 10, 2021
God of War Ragnarok: Ten Major Gameplay Improvements
Multiple Shields Make Defense Interesting
Over the past three decades, shields have played a crucial role in video games. From the earliest days of gaming with The Legend of Zelda to the most recent with Elden Ring, a lot of games have come a long way.
However, few players predicted that the shield would play such a significant role in a game like God of War, especially given the series' reputation for its cinematic, fixed-camera hack-and-slash action. When Kratos made his way to Norse mythology, Santa Monica Studio shifted the game's focus to put players in the action.
For this reason, the shield was made an integral part of the 2018 game's battle system. Thankfully, God of War Ragnarok only improves upon the original by providing new shield types and upgrades, making for more dynamic and satisfying battles.
Almost 3.5 hrs into God of War Ragnarok and man!!
Enjoyed every minute of it so far. Thor vs Kratos was a thrill to play through and I am loving the improvements to so many aspects of the gameplay. pic.twitter.com/eVF1GLIPJD

— ToeKnee (@T0eKnee92) November 12, 2022
Boss/Enemy Variety Keeps Things Fresh
With the 2018 game, Santa Monica Studio made sure to include a wide variety of foes to guarantee the action never became boring. Ice-infused Hel-Walkers, Revenants, stony Ancients, floating Nightmares, Draugrs, and more were among these monsters. Even yet, there was too much repetition and not enough variety considering the scope of the game.
God of War Ragnarok, thankfully, has all of those issues resolved. In the sequel, there are many various types of opponents, and each has its own special abilities and weaknesses. In addition, almost all bosses now have unique personalities, and trolls no longer play a significant role.
Overhauled Upgrade System But Simplified U.I.
The Game Awards Game of the Year went to God of War. Although that's not to say it was flawless. In actuality, there were numerous problems with the 2018 release, most notably with the game's interface. Changes to the weapon and armor upgrade systems from the original games were introduced in the first game of the Norse tale.
Unfortunately, the new system included too much information, which made the upgrading menu difficult to understand for gamers. God of War Ragnarok improved upon this by simplifying the UI, making the menus much more accessible.
Weapon Use Extend Beyond Attacking 
Kratos, upon his incorporation into Norse mythology, abandoned his former arsenal in favor of an axe presented to him by his bride. And while it might sound like a step backward, the new arsenal was packed with enough variety to keep gamers engaged throughout the campaign. In case it wasn't enough, designers also included recognizable chained blades.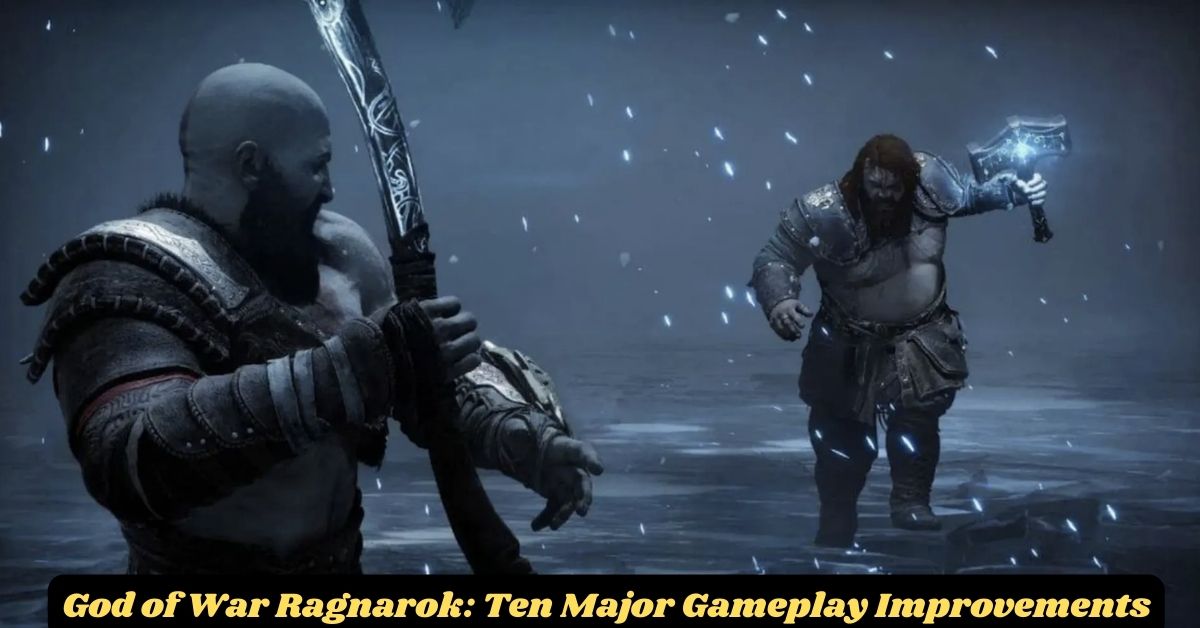 Everything Kratos learned and gained in the 2018 game returns in God of War: Ragnarok, but with an increased focus on its application. Players can now get very creative with their weaponry, using the chained blades to swing around more quickly, the axe to freeze in a combo of companion's powers, and so on.
Overwhelming Amount Of Companions
2018's God of War is a well-rounded installment in the series. It's got a nice progression of abilities and a simple story. Additionally, Kratos and his son Atreus play pivotal roles throughout the adventure, which helps to maintain a consistent narrative focus.
God of War Ragnarok expands on this concept by allowing players to form alliances with a wide variety of playable characters. There's Brock, Sindri, and a fully matured Atreus, as well as the Norse god Tyr and goddess Freya. The individual moves of each character have their own special effects and applications.
Extended Use Of Spartan Rage
In Kratos' battles against Baldur, Thor's sons, the Dragon, and others, the Spartan Rage revealed Kratos' real might in God of War 2018. Its move set was quite limited, and it performed poorly in standard encounters.
God of War: Ragnarok, however, puts an end to that problem by expanding the number of activities available to the player during Spartan Rage. Kratos's unique skill can now be used in a variety of different ways, both passively and aggressively, by the player. 
As the #TheGameAwards approach.

These are MY TOP 4 games of this year.

– Elden Ring and Dying Light 2:
I had an absolute blast with gameplay.

– God of War Ragnarok & A Plague Tale Requiem:
Story telling that hits my soul. pic.twitter.com/QEV2K66cQX

— H o l l o w (@HollowPoiint) December 8, 2022
Quicker Animations Result In Faster Gameplay
God of War 2018 is undeniably a cinematic game, what with all of its leisurely cutscenes and arduous stair-climbing challenges. Not only does this game feature realistic animation that brings Kratos and Loki to life, but it also features voice acting. The exploratory parts of the game are slowed down as a cost of the cinematic approach.
God of War Ragnarok fixes that, though, by fine-tuning the slower animations from the previous games to run more quickly. The speed of the game has increased as a result of this, since players may now quickly do things like launch a boat or instantly ascend a mountain with the press of a button. In addition, the process of discovery is smoother than it was before.
Better Puzzle Design
There were a few elements in God of War that didn't quite live up to expectations, even if it was a fantastic game in 2018. The tank-like controls, the absence of orbs, and the inability to return to previously visited areas are all examples of these issues. Longtime aficionados, however, were most dissatisfied by the game's lack of difficult puzzles.
As of God of War: Ragnarok, most of those issues have been resolved. In addition, the designers added new features for players to employ, allowing them to shift platforms and combine their capabilities with those of their buddies in order to learn the game's secrets. The new game, it can be said with confidence, forces players to use their brains.
Dual Protagonists
Ragnarok, the next installment in the God of War series, gives players a wide variety of options for how they choose to engage with the plot. In addition to a wide selection of playable allies, the game adds a new twist by letting players assume the role of Loki.
Kratos and Atreus both come equipped with extensive skill trees and a wide variety of upgrades this time around. To top it all off, the son of the Greek God of War possesses a particular talent that allows him to transform into a wolf and pulverize his foes into dust.
Additional Brutal Finishers
The conclusive sequences in God of War 2018 really sold Kratos' badass persona. He could rip foes in two, crush their skulls beneath his feet, slash out their insides with the blades, or simply split them in half. However, most gamers found that the animations became boring after a time.
God of War Ragnarok addresses this by increasing adversary variety and providing Kratos with a larger selection of devastating kill moves. Since then, he has aged into a really monstrous appearance and style and now attacks like one. Sony's PlayStation 4 and PlayStation 5 owners can now enjoy God of War: Ragnarok.
God of War Ragnarok Final Words 
God of War Ragnarok's gameplay God of War: Ragnarok is a third-person action-adventure game, which takes place in an open-world environment. Players control the protagonist Kratos, a former Greek God of War who is now a mortal. Kratos must travel through the realms of Norse mythology to prevent Ragnarok, the end of the world.
Players traverse a variety of environments, including forests, mountains, and caves, to complete objectives. The gameplay involves solving puzzles and fighting enemies using a combination of melee and ranged weapons, and magic.
Players can also upgrade Kratos's weapons and armor, unlock new combat abilities, and unlock new skills to use in battle. The game also features an online multiplayer mode, which allows players to team up and fight against hordes of enemies in an arena setting. Players can also play against each other in a variety of PvP game modes.
God of War Ragnarok Frequently Asked Questions
What is the finest shield in God of War Ragnarok?
It's up to individual opinion to determine who has the finest shield in God of War: Ragnarok, but some skills are clearly superior than others. For this reason, the Onslaught shield is our pick as the top recommendation.
So what exactly happened to the actual Tyr in the events of God of War: Ragnarok?
He was born to Odin and Fjörgyn, making him the younger brother of Thor, the older half-brother of Heimdall and Baldur, and the uncle of Magni, Modi, Forseti, and Third. He had a conversion experience that caused him to renounce his position as God of War, go on a quest of self-discovery, and eventually settle on a new mission of promoting peace.
What occurs in God of War Ragnarok? 
The final chapter of God of War Yes, Ragnarok does arrive, Asgard is destroyed, and characters like Odin and Thor are dead, though they aren't killed by Kratos like the Greek pantheon was. This brings the Norse tale to its conclusion. Thor is murdered by Odin because he disobeyed the king.