Once again, Apple has released a brand-new app: As a "fluid canvas" that can be used in any way you like, Freeform is a new app for iOS 16.2, iPadOS 16.2, and macOS Ventura 13.1. Freeform is a digital whiteboard with an emphasis on sharing and collaboration, but it may be used alone as well.
This article includes information about the Freeform Apple App Transform Your Ideas into Reality. Apple has made great strides to ensure that the Freeform experience is nearly identical across all of its supported platforms and devices. The UI is laid out slightly differently on phones and tablets compared to desktops, and there are extras like Apple Pencil compatibility.
Continue reading:-
Learn the Fundamentals of Freeform here!
If you've never used Freeform before, the first time you launch the program you'll see a sea of blank canvas ready for your touch. With the Freeform canvas, you may arrange your content any way you wish, including text, photographs, videos, audio clips, online connections, shapes, sticky notes, map locations, documents, and more. You can also make as many pages as you like since there is no need to worry about running out of paper.
Freeform has quickly become my favourite Apple app in recent memory. pic.twitter.com/LhJ4C9FYwl

— Basic Apple Guy (@BasicAppleGuy) December 21, 2022
The simplicity and adaptability of Freeform are remarkable. On macOS, for instance, you can rapidly preview a file by dragging it in from Finder and double-clicking it to open it. You don't have to switch between screens or wait for media to load because video and audio play directly within the app. You can scale, rotate, and flip anything you want, and even stack multiple items on top of one another.
Apple has implemented in-built alignment guides (displayed as gray dots), so your boards don't seem too jumbled, and specific things can be locked in place if necessary (particularly helpful if you start inviting other people to share your Freeform creations). You can make the boards as large as you like, so you never have to worry about running out of space, and the zoom and selection tools are intuitive and easy to use.
More drawing options are available on iPads and iPhones. To draw on macOS, you'll need to use your finger or an Apple Pencil in place of the freeform pens and brushes. It's unfortunate that you can't sketch on a Mac, but given the lack of a touchscreen, it's reasonable. If you're using the desktop version, you can still view these sketches, but you won't be able to create them.
Effective Teamwork Through Freeform
Freeform's strength is its ability to foster collaboration; a single user can invite up to 99 others to collaborate on a single board. This greatly expands the app's usefulness, as it can be put to any number of different purposes, from deciding the company's strategy for the next 12 months with dozens of coworkers to arranging a wedding with a handful of close friends and family. You can easily distinguish between different contributors in real-time by using different colored cursors, and everyone has access to the same features and tools.
Apple has added a new brainstorming app called Freeform in iOS 16.2 😮 pic.twitter.com/hlzCtlurqo

— Matt Navarra (@MattNavarra) October 26, 2022
Using the tried-and-true share option, you can invite others to collaborate on your Freeform board. You can modify who has access to your Freeform boards at any moment, and all changes are shown and synced in real-time. Using the left-hand sidebar, you may quickly jump to any of your most recently used boards, as well as any of your shared boards, favorite boards, or a complete list of all of your boards.
Consistent with Apple's reputation for design excellence, Freeform plays well with its other applications. To rapidly involve everyone involved in a Messages thread in a collaborative effort, for instance, simply drag a Freeform board into the conversation. You can keep track of who's doing what on the board without having to switch apps because activity updates will be pushed to the same conversation thread.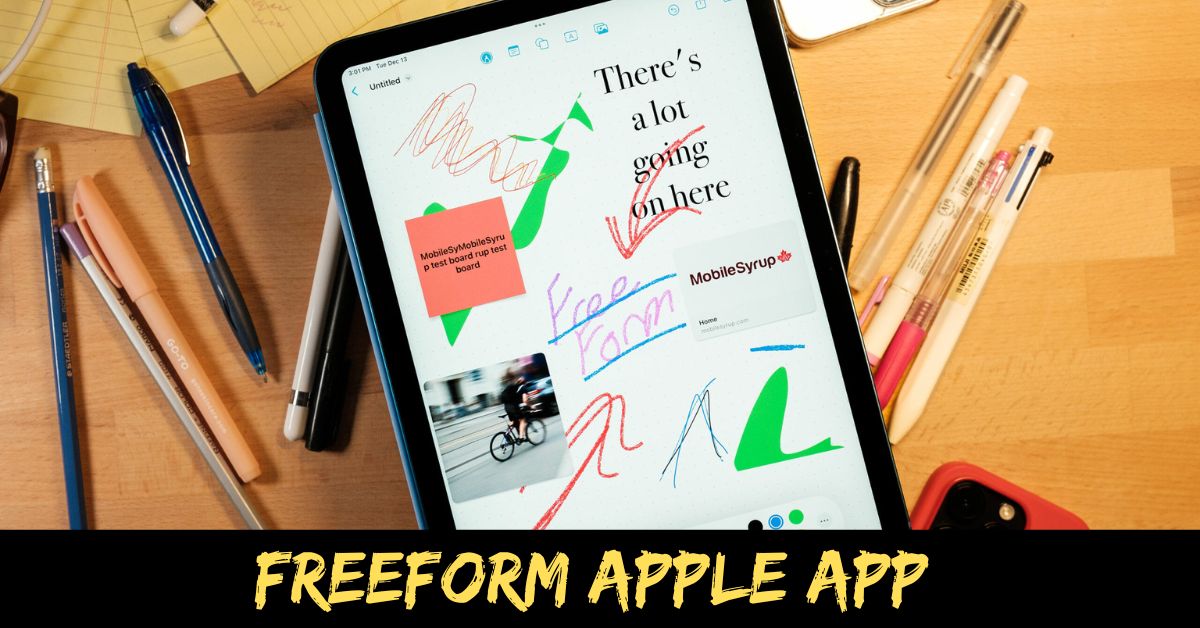 Initiating a FaceTime call between all the collaborators on a board causes video boxes to appear in the corner of the screen so you can keep an eye on your digital canvas at the same time, which is convenient if you prefer face-to-face contact but feel the need to enforce order on the canvas. Your boards can be exported as PDFs and shared with other apps as needed.
Similar posts:-
Freeform's Potential Benefits
We appreciate Freeform's adaptability and user-friendliness: It's not the most ground-breaking program (it has a lot of features that are also present in Apple Notes, for example), but its flexibility is what makes it so appealing. Like most Apple programs, it requires little to no configuration to accomplish a wide range of activities (such as playing media) and, in most cases, it just works.
However, it is still a work in progress. The macOS program is now clunkier than mobile versions, and it isn't always evident how to perform something, such as rotate or layer. Freeform is optimized for usage with an iPad and an Apple Pencil, which is probably how the vast majority of users will access it. Freeform isn't perfect, and if you're satisfied with your current digital whiteboard software, you might not see a reason to convert to it just yet.
Freeform's potential applications are practically limitless; you could use it to map out the framework of a video game you're developing, keep track of what you need to buy at the grocery store, draft offensive plays for a basketball team, or just doodle and mess around with ideas in the hopes that something will stick.
Everything you need to know about Apple's new Freeform app https://t.co/ePoO7HHmiD

— Matt Navarra (@MattNavarra) October 26, 2022
You may not be aware that Google also offers a device called Google Jamboard, which serves a similar purpose. Many of the same capabilities, plus these bonus ones, are yours to enjoy: There's a simulated laser pointer and the ability to merge text, photos, and sticky notes, among other features. It's easy to use and complements other Google offerings (like Google Meet), but for the time being, I think Apple's offering is superior.
Final Words: We hope you have found all the relevant information about the Freeform Apple App Transform Your Ideas into Reality. Stay tuned with us for more latest news and information.
Frequently asked questions
What is Apple's Freeform app?
Freeform is a brand new program that can be downloaded right now and is included in the most recent versions of iOS, iPadOS, and macOS. Freeform allows users to visually arrange content on a malleable canvas, without having to worry about fixed page dimensions or layouts, so that they can see, share, and collaborate on their work in a single location.
Will Freeform be available on Mac?
Rarely do we see a completely new app from Apple, but here we are: A "fluid canvas" that can be used in any way you like, Freeform is currently available for iOS 16.2, iPadOS 16.2, or macOS Ventura 13.1.
Is there any free app on iPhone?
You can find both free and paid apps for the iPhone, all of which can be downloaded through the App Store. The best free apps may be found by selecting the Apps tab in the App Store, then tapping the Free section.