In other words, Fallout 5 is definitely happening. Many interpretations are possible, but the most likely one is that progress is being made. There is not much information available at this time, notably official information from Bethesda. We can confirm that two games will launch before Fallout 5 does.
While Fallout 5 is still a ways off, Starfield is the first Bethesda game that fans can look forward to before the next major release. The Elder Scrolls 6 comes after that, although it's still a ways off. Depending on the timeliness of these other projects, we may not see Fallout 5 for a long time.
Here is everything we know about Fallout 5 so far, including the newest rumors and official information. We should expect additional information about Fallout 5 after the release of Starfield and Bethesda's disclosure of Elder Scrolls 6. When that happens, you'll see an update here.
Read more:-
Fallout 5 Release Date Speculation, Platforms
Although there is no official word on when Fallout 5 will be released, fans are already getting excited. Optimistic forecasts have been made, but considering Bethesda's current concentration on Starfield and The Elder Scrolls 6, plus the fact that the game hasn't even been disclosed, we don't expect it for quite some time.
Current speculation places Fallout 5's release date far in the future, maybe beyond the seven-year gap between the releases of Fallout 3 (2008) and Fallout 4. (2015). It seems more plausible in 2025 or later now.
That is contingent upon the development stages each game has reached within Bethesda. We don't expect to hear anything official for some time, given that in a November 2021 interview with IGN, Todd Howard revealed the studio has a "one-pager on Fallout 5" – a broad summary of what they want it to be.
Further, in June 2022, Howard announced that Fallout 5 would be Bethesda's project after The Elder Scrolls 6, as reported by IGN. We may have to wait a while for the next Fallout, as the game is still in pre-production and won't be out for at least a few years.
Join us for the #DeveloperDirect, presented by Xbox and Bethesda, featuring major updates from Minecraft Legends, Redfall, Forza Motorsport, and The Elder Scrolls Online.

Tune in January 25 at 3pm ET!
➡️ https://t.co/CbV6Mjhe2E pic.twitter.com/oIWZyIMqHO

— Bethesda (@bethesda) January 11, 2023
It hasn't been officially announced yet, but we can probably expect Fallout 5 to come out for the Xbox One, Xbox 360, and PC. That is if we aren't already considering the next generation of gaming systems. PS5 is a different story, though.
Since Microsoft owns Bethesda, it makes sense for them to make this game exclusive to their platform. However, Xbox has stated that decisions about exclusive deals for the next Bethesda titles would be made on a case-by-case basis, so absolute certainty cannot be guaranteed. All things considered, Fallout 5 ought to be available through Xbox Game Pass.
When you consider that the average lifespan of a game console is around seven years, it's safe to assume that these systems will support the launch of Fallout 5 before the introduction of the next generation of consoles.
Where could the events of Fallout 5 take place?
A nuclear holocaust has devastated the United States, and if you've played a Fallout game, you know how much the location means to the series. All previous Fallout games took place in a different state in the United States, and it stands to reason that this won't change. The setting of Fallout 3 was Washington, while Fallout 4 was in Boston.
Traveling to new locations would be a fun addition to the Fallout series, but it could turn off players who have played the game from the beginning because they have been attached to the setting. There are plenty of places to read about or hear people speculate on the setting of Fallout 5.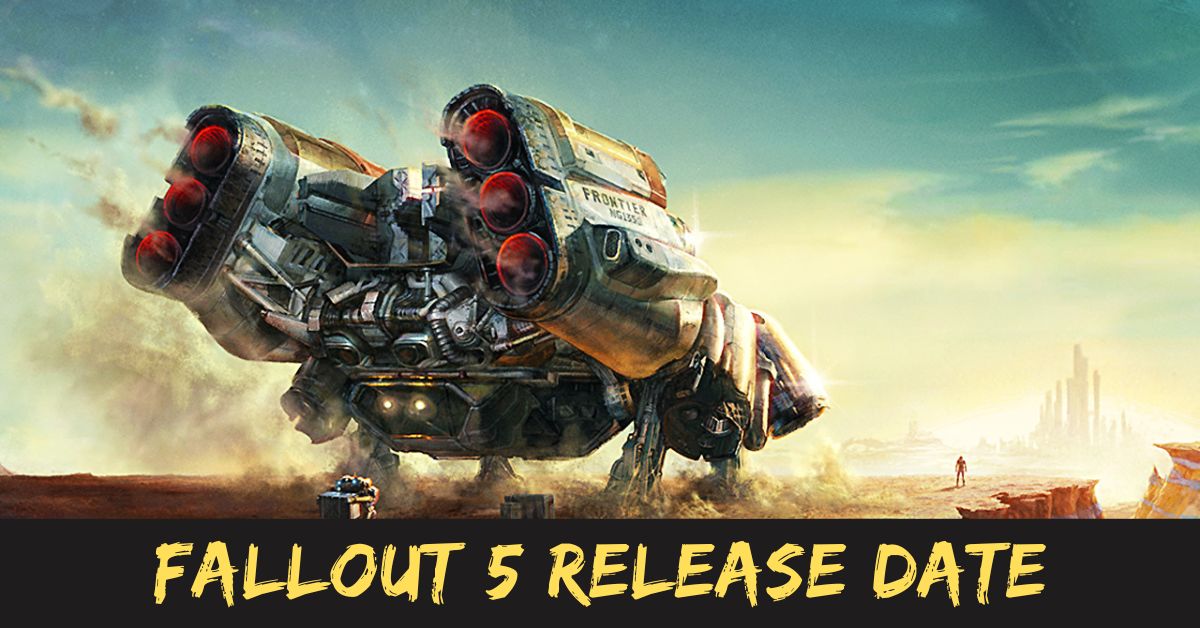 Greater New Orleans
After a trademark application for "Fallout New Orleans" was discovered online in 2016, speculation began that the next Fallout game might be set in the city of New Orleans. More than five years later, this listing has yielded no results, but that could be the consequence of a deceptive bait and switch.
Even though Fallout has taken us to a few sluggish towns, it would be interesting to see a game focused solely on the South.
Chicago
In terms of plausibility, this one is a little further out there. Fans of Fallout: New Vegas will recall that the setting of the game includes a subtle reference to an Enclave outpost in Chicago, which has led to rumors that the game will be set in the Windy City.
Somewhere Else in the World
Could the first-ever Fallout game with a non-American setting be on the horizon with Fallout 5? Having the game take place in a different country like Korea, China, or Russia would provide us with a great opportunity to experiment with new visual styles for the world map and its associated places. An opportunity to give the franchise a new look presents itself with each new installment.
Will there be multiplayer in Fallout 5?
Support for multiple players and cooperative gaming over the internet
There has never been a multiplayer option in a main series Fallout game. While the idea of exploring the post-apocalyptic wasteland with a group of pals was likely appealing to fans, the implementation of this idea in Fallout 76 was largely unsuccessful.
Similar posts:-
Since the developers of Fallout 76 are always working to enhance the multiplayer features of the online service, it's likely that Fallout 5 will be developed exclusively as a single-player experience. Given the troubled development of 76, a 'poor' multiplayer experience in Fallout 5 is unlikely to be tolerated. It sounds like something Bethesda would want to steer clear of at this point.
Certainly, social elements will be present. Social systems like those seen in games like Dark Souls and Bloodborne, where players leave comments for one another to offer advice or insult them, may be implemented in Fallout, but they might feel out of place given the setting.
Final lines: We hope you have found all the relevant information about the Fallout 5 Release Date Speculation, Platforms, Locations, and More Information. For more latest news and information stay tuned with us here.
Frequently asked questions
Will there be a Fallout 5?
As soon as The Elder Scrolls VI is released, Fallout 5 will follow.
The Elder Scrolls 6 will be followed by Fallout 5, as stated by Todd Howard in an interview with IGN (link opens in new tab).
Is Fallout New Vegas 2 confirmed?
With Bethesda's focus presently being split between Starfield and The Elder Scrolls 6, updates on a future Fallout game have been few and far between. With a clever tweet, Obsidian, the studio behind the critically acclaimed RPG Fallout: New Vegas, has revealed that it is not currently developing New Vegas 2.