Dragon Age: Netflix's Dragon Age: Absolution marks the beginning of the series' slow return from franchise limbo, where it has been in since 2015. Thanks to comics and a few books, fans haven't forgotten about the Dragon Age series.
Still, the upcoming release of Dragon Age: Dreadwolf heralds a significant departure from the previous games in the series with Absolution. While that particular game may not be released for another year or two, the show's premiere coincides with a trend in which more and more video game brands are getting (often animated) television shows and movies.
To a large extent, the Dragon Age series is distinguished by its grand epics, in which protagonists assemble an army of allies and willing groups to journey across the land and defeat a terrible evil. On the other hand, Absolution is a more personal experience that, like 2011's Dragon Age II, centers on a robbery to take a potent magical relic.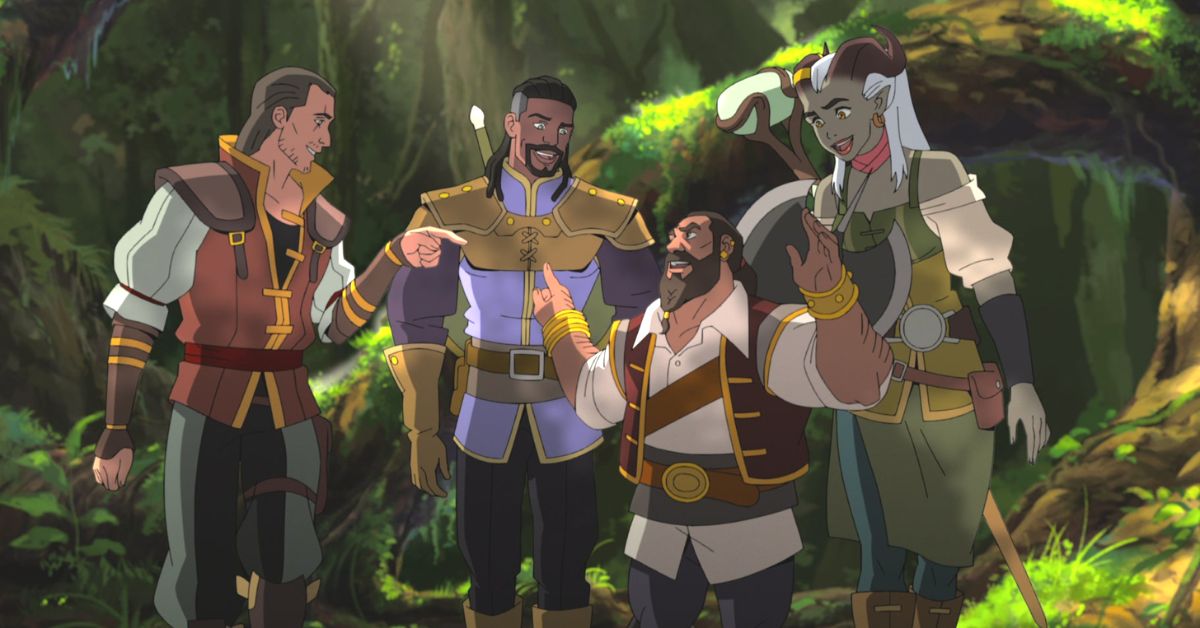 In a recent interview with io9, showrunner Maighread Scott stated that the theft was integral to her original pitch for the series. It would be like "Reservoir Dogs meets Black Hawk Down," in her words, with all the mayhem, betrayals, and deaths that entails.
In the opinion of executive producer John Epler, a robbery plot was a natural fit for the Dragon Age universe. "Heists provide a wonderful pressure cooker for emotions, and you get a lot of mileage out of seeing people who shouldn't together bang against each other," he explained.
Dragon Age has always enjoyed showcasing the complexity of human interactions, which is why they are so entertaining. If you poll anyone who's played even one game in the series, you'll discover that they have strong opinions for and against certain characters.
It was no secret to Epler and Scott that relationships were crucial to Dragon Age; Scott has referred to them as the "second pillar" of the game. The player can influence these connections or develop them organically as the story progresses.
The individuals are what Dragon Age is all about," Epler continued. Ultimately, the show is about the people and the characters who make a difference in the world. Their influence extends well beyond the people immediately in their sphere of influence and into the broader realm of relationships and the varieties of connections that can be formed between people.
Having watched dragon age absolution and vox machina, imma just say it. I hope "queer friend group plays DND" becomes the new popular adult animation genre pic.twitter.com/8aR7PZmlYt

— Travis 🐻🇲🇰🏳️‍🌈 (@BigBurrTravis) December 12, 2022
They might be positive or negative, uplifting or humorous, and that's part of their appeal: the realization that your actions impact others around you. Scott realized Absolution couldn't have the same sense of location as the games because of the show's limited runtime (six half-hour episodes versus three games stretched across dozens or hundreds of hours).
Instead, we tried to ensure that the show's characters and interactions were exciting and seemed organic extensions of Theda's setting. In particular, she praised the elf assassin Miriam for being "wonderfully imperfect" among thieves and mercenaries.
In the play, you can see how her childhood as an enslaved person in the Tevinter household broke her down. Yet her heroism shines through since she is prepared to risk her life for others; this is a consistent motif throughout Dragon Age.
Although Tevinter was briefly mentioned in the previous games, its significance grew significantly in 2014's Dragon Age: Inquisition. Absolution, however, is the first in-depth look at the area before the players travel there firsthand in Dreadwolf.
🏳️‍🌈 Dica da pridezinha: Assistam "Dragon Age: Absolution" na Netflix. pic.twitter.com/YW4ZhhIaES

— LGBTANIMES+ (@pride_anime) December 18, 2022
Scott always intended for the show to take place in Tevinter to provide a "little, tantalizing sliver" of the location before expanding on what we see in the front in the fourth game, much like the heist.
Because of Tevinter's outsized impact on the rest of Thedas, Epler thought the show would be an excellent place to bring up the topic. His opinion is that no other nation in Thedas's history can compare to Tevinter's influence on the world. No other country has its tentacles (good or bad) spread so far and wide across the globe.
Please keep visiting Techballad.com for updates. Keep our site bookmarked so you can quickly return to check for new content, Like Hogwarts Legacy.