Destiny 2 Lightfall: From what we've seen in games over the past few years, grappling hooks are the most thrilling new addition to any series. As previously announced by Bungie in August, players of Destiny 2 will be able to use a grappling hook to swing around with their new Strand powers in the upcoming 2023 update, Lightfall.
However, the most recent trailer for the expansion aired at The Game Awards 2023, and it featured gameplay including the grappling hook, proving that Guardians can grasp anything, including other Guardians. After the new trailer's aesthetically pleasing opening of thirty seconds, we see a Thundercrash Titan launch into the air using their Super.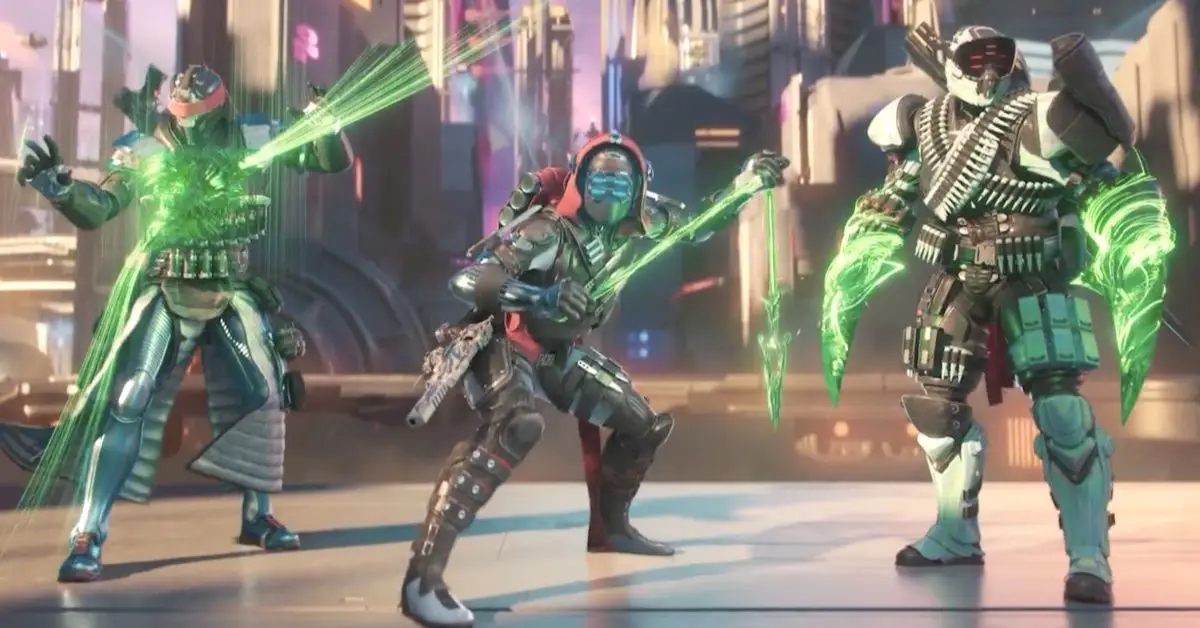 Now, for those who are unfamiliar, Thundercrash is a Super introduced in Destiny 2: Forsaken that transforms the Titan's body into a missile and forces them to physically fly through the air until they crash into something. Although the superpower itself is not novel, the Hunter's grapple-based hitchhiking on the Thundercrash certainly is.
Bungie has proven time and again that they are masters of the cinematic trailer. The Thundercrash Titan floats toward the enemy squad, and the Hunter follows suit, soaring through the air. When they touch down, the pair immediately begins kicking a** together, with the Hunter even appearing to grapple into an enemy Cabal and perform a melee execution on them.
While Hunter's rodeo appearance is the trailer's most notable feature, there are several more intriguing hints and potential spoilers concerning Strand that can be found throughout (plus we get lots of shots of the gorgeous Neomuna destination).
The trailer begins with a Hunter crashing on the ground 22 seconds in. Upon touching down, the surrounding Cabal members immediately rise into the air and hover there. Later in the clip, a group of Cabal levitate around a Warlock who is standing in a Rift; they have been imprisoned by Strand.
At the 23-second mark of the trailer, we see a Titan fire that looks to be green rounds from a brand-new rifle. While green bullets wouldn't look out of place in a Destiny 2 video, in real life, bullet colour is supposed to correspond to the element of the weapon.
During the Beyond Light period, Guardians waited over a year to obtain Legendary Stasis weapons, but during the Lightfall era, it appears that Guardians will receive Strand weapons almost soon.
Destiny 2's latest Lightfall trailer shows off more of the mysterious Neomuna https://t.co/9dm0U0MfMR pic.twitter.com/nA2zoo9Sl7

— Polygon (@Polygon) December 9, 2022
Not long after the conclusion of the Thundercrash sequence, we also witness a Titan detonate a Towering Barricade, causing a giant blade to slash out in front of them, searching for nearby Cabal targets. All three classes cast their new Strand Supers, most of which had been seen before, in the final seconds before the minute mark.
While Titan gamers are no strangers to wandering Super abilities, this caravan appears to confirm that their new blade-hands Super is merely the latest example. The Guardian can apparently slice through a squad of Cabal with ease using the Hunter's Rope-Dart Super, and the Warlock Super conjures up a swarm of home-in-on-target missiles from thin air.
Most of the rest of the trailer is dedicated to cutscenes and the game's story rather than actual gameplay. However, toward the end of the trailer, we witness a Titan sprint punch through a window. This animation is similar to the ones used by other Titan shoulder charge abilities; it's likely that this will be one of the melee choices available to you in Strand.
BREAKING: New Destiny 2: Lightfall trailer to premier tomorrow during @thegameawards pic.twitter.com/bX18KcFjrV

— DestinyTracker (@destinytrack) December 7, 2022
There are many other exciting parts of the caravan that are also worth highlighting. We advise watching Aztecross' analysis video for a more in-depth examination. Destiny 2: Lightfall, developed by Bungie, will launch on February 28, 2023, for PlayStation 4, PlayStation 5, Windows PC, Xbox One, and Xbox Series X.
Frequently Asked Questions
What will Destiny 2 Lightfall be about?
In Destiny 2: Lightfall, players are tasked with repelling Calus's deadly Shadow Legion on the Witness's behalf. In addition, you will find Neomuna, a new city on Neptune that is now under attack from the Shadow Legion.
Is Destiny 2 Lightfall the last expansion?
Not only has Bungie promised additional Destiny content following Lightfall, but the next expansion has also been given a name. There isn't much information available at this time, but Destiny 2: The Final Shape is scheduled for release in 2024.
Will there be a new subclass in Lightfall?
The expansion will bring various quality-of-life enhancements that players of all experience levels can enjoy, as well as a new subclass called Strand, to Neptune.
Please keep visiting Techballad.com for updates. Keep our site bookmarked so you can easily return to check for new content Like Transformers: Reactivate Announced