Crime Boss Rockay City Release Date: Several unexpected new games were revealed at the 2022 Game Awards or "world debuts." In addition to highly anticipated sequels like "Hades 2," "Armored Core 6," "Final Fantasy 16," and "Death Stranding 2," there were also several new releases.
Included in the latter group was the first-person organised crime shooter "Crime Boss: Rockay City," which boasted a cast of well-known actors. The game features an outstanding roster of celebrities, many of whom are well-known actors of the '90s. But cameos aren't everything, and while "Crime Boss: Rockay City" has been widely panned for drawing resemblance to the "Grand Theft Auto" series, it aims to set itself apart in a variety of other ways.
For one, "Crime Boss: Rockay City" features a celebrity-studded cast and gameplay more akin to "Payday 2" than "Grand Theft Auto 5", making turf fights and organised crime the game's main focus. The Game Awards part didn't give away too much, but it did show off a few key features and give us an idea of what to anticipate from the game.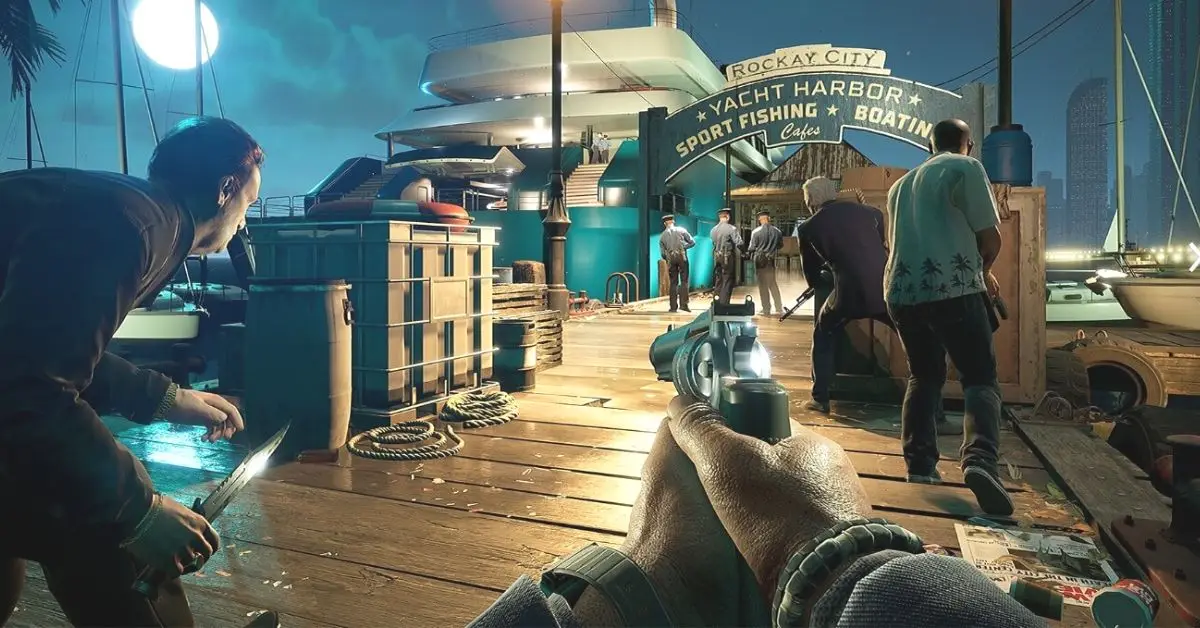 Crime Boss Rockay City Release Date
While many of the titles unveiled at The Game Awards lacked a concrete release window, "Crime Boss: Rockay City" was one of the exceptions. On March 28th, 2023, "Crime Boss: Rockay City" will be released. Console gamers will have to wait until later in 2023 to gain access to the Epic Games Store, however.
It was stated that players on PlayStation 5 and Xbox Series X|S will have to wait longer than PC players before the Epic Games Store exclusivity ended, but no specific date was given.
This was announced by the game's publisher, 505 Games, which also included information on how to pre-order the product. If previous Epic Games Store exclusive agreements are any indication, "Crime Boss: Rockay City" will not be coming on consoles until much later in the year.
The new star-studded game from 505 Games and Epic Games, Crime Boss: Rockay City, just revealed 6 minutes of in-depth gameplay! Get your first look 💥 pic.twitter.com/TGLo6LeCb7

— GameSpot (@GameSpot) December 9, 2022
Crime Boss Rockay City Cast
At The Game Awards, a trailer for "Crime Boss: Rockay City" was shown, revealing the game's star-studded cast. Though the title isn't near to release, 505 has revealed who each celebrity will play in the game, including action heroes, famous singers, and '90s icons.
Michael Madsen ("Reservoir Dogs," "Kill Bill") plays Travis Baker, the main player character
Chuck Norris plays the "righteous" and aptly-named Sherriff Norris
Danny Trejo ("Machete," "From Dusky Till Dawn") and Vanilla Ice play rival gang leaders The Dragon and Hielo, respectively
Danny Glover ("Lethal Weapon"), Kim Basinger ("L.A. Confidential"), Michael Rooker ("Guardians of the Galaxy"), and Damion Poitier ("The Flash") all play Baker's teammates and handlers
There may be more A-listers to come forward, but so far it sounds like a cast that would fit right in with a Quentin Tarantino film, save for Chuck Norris. It's becoming more common for video games to feature well-known actors and actresses from different fields (I still can't believe Chris Pratt is Mario) and "Crime Boss: Rockay City" takes this tendency to an extreme.
Crime Boss Rockay City Gameplay
According to Epic Games, in "Crime Boss: Rockay City," players assume the role of Travis Baker. After the current criminal boss steps down, Baker is "a man with his sights set on becoming the new King of Rockay City."
While the publisher did call it a first-person shooter, they emphasised the criminal element more than the shooting part. The heist system in "Crime Boss: Rockay City" appears to take heavy inspiration from games like "Payday 2," which requires players to carefully plan crimes and coordinate action with a squad, based on gameplay seen during the teaser and additional footage shared by 505 Games subsequently.
The phrase "turf battles" appears repeatedly throughout the preview and description. Players will have to contend with competing gang leaders and the law as they help Baker expand his criminal empire in the Miami-like, '90s-inspired Rockay City.
Here's the debut trailer for Crime Boss: Rockay City, out 3/28/2023! @EpicGames #TheGameAwards pic.twitter.com/MXeb1Wr4Xq

— The Game Awards (@thegameawards) December 9, 2022
One of the more unexpected events of The Game Awards 2022 was the announcement of "Crime Boss: Rockay City," and only time will tell if the game's cast of criminals and heist-oriented gameplay strikes a chord with fans.
Frequently Asked Questions
What is crime boss rockay city?
You may play Crime Boss: Rockay City by yourself or with pals, and it features first-person shooter action as well as turf warfare.
Is Crime Boss Rocky City open world?
One major difference from other games is that you can't just steal cars and wander about at will in this new one.
What was the first open world crime game?
Western Gun (1975) by Taito was the first open-world video game. In North America, the game was renamed Gun Fight (1975). In Western Gun, two cowboys armed to the teeth tried to shoot each other across a landscape of cacti and mountains.
Please keep visiting Techballad.com for updates. Keep our site bookmarked so you can easily return to check for new content Like Lookism Season 2 Release Date