The evolution of folding smartphones from gimmicks to viable options has likely begun. Is the same fate in store for computers? After the release of Lenovo's 13.3-inch ThinkPad X1 Fold in late 2020, Asus released the Zenbook 17 Fold OLED ($3,499.99), a folding-screen convertible with a built-in kickstand and wireless keyboard.
The 17.3-inch display is large enough to divide into two smaller panels that are still large enough to be practical, and the design provides flexible mode options for varied workloads. The Zenbook 17 Fold OLED is exorbitantly priced, matching Samsung's $1,800 Galaxy Z Fold 4, and its Intel Core i7-1250U processor is significantly weaker than you'd ordinarily get in a laptop at this price, making it a very poor value.
While affluent early adopters may take the plunge, most people will view it as an impressive engineering feat and a positive first step toward democratizing access to similar technology.
This Folding Display Is a Rare First
The Asus is the second foldable Windows PC we've tested, but its increased dimensions prevent fair comparison to the Lenovo X1 Fold. Even while its price (and possibly a few bugs) will hinder widespread acceptance for the time being, after years of laptops that essentially look and behave the same, I couldn't help but feel drawn to the device.
When you unfold the Zenbook 17 Fold OLED for the first time, you'll feel like you're living in the future. However, I have a feeling that my enthusiasm would wane if I had to pay for the device instead of receiving it as a review sample. Let's have a look at what it is and how its structure works.
The Fold is essentially a tablet computer with a 17.3-inch OLED display that can be folded in half to reveal two displays of 12.5 inches each. The crease eliminates, or at least reduces, the usable area of the display, but I'll talk more about how Windows and Asus deal with it in a second.
The screen itself has the look and feel of a thin, flexible plastic sheet laminated onto a standard OLED panel. It's glossy, so it reflects more ambient light than a regular laptop screen would, and it also picks up fingerprints quite readily.
When opened, the device has a height, width, and depth (HWD) of 0.46 by 11.3, and 14.9 by 7.5 inches. Due to its light 3.31-pound build, it's one of the more convenient ways to pack a 17-inch screen for business or pleasure.
The LG Gram 17 is the lightest machine in its class at just 2.98 pounds, and when folded it has a footprint significantly smaller than a full-sized laptop.
The chassis is magnesium metal, giving the frame a premium weight and feel, while the screen edges are constructed of plastic. You may have seen what appears to be a rear cover, but is actually fastened to the chassis.
Later on, we'll go into more detail about this leather cover's dual functions as a kickstand for viewing the content in landscape or portrait orientations. (As can be seen in these photographs, the Zenbook logo on the back cover has a fascinating glowing-light appearance thanks to a shine from the ambient light in the room.)
On top of being foldable, the panel uses OLED technology, making it more vivid and contrasty than the IPS displays found in most laptops. Asus hasn't scrimped on the product's key selling point—the touch screen.
It boasts a 4:3 aspect ratio and what Asus refers to as a 2.5K resolution (2,560 by 1,920 pixels), and it's a joy to look at thanks to its crisp details, vivid colors, and deep blacks.
Thanks to a secret hinge in the middle, the panel can be folded, and Asus showed me a disassembled version that included sliding elements to prevent the screen from ripping or being pulled apart when bending or folding.
Screens have a slight crease or dimple in the center, just along the hinge, that becomes visible when the screen is completely flat and the light is shining in just the right way.
The indentation caused by the hinge isn't too distracting, but it is obvious. This is preferable to the solid separation found on some folding smartphones. With a folding screen and more moving parts than a conventional clamshell or 360-degree convertible laptop hinge, it's hard not to fear that the display would deform, loosen, or crack in the long run, despite Asus's claim that it can open and close over 30,000 times.
But in the here and now, it's gratifying and simple to utilize. When you raise or lower the display, you'll feel some resistance, but it's not jarring or abrupt; the screen is steady in relation to the force you apply.
However, you need to use both hands and hold the other side firmly when you close or open the panel to offset the resistance. That's how the Zenbook 17 Fold operates, but why would you want to use its folding screen? Try it out and see how it works.
Accepted Into The Family: Several Operating Systems and a Wireless Keyboard
The Zenbook Fold is most commonly used in what we'll refer to as laptop mode, with one side flat on a desk or table and the other side tilted up at an approximately 90-degree angle facing you. The primary distinction is the addition of a second display in place of the traditional keyboard and touchpad.
That's a lot of real area for your mobile work, and you can use the same virtual keyboard and mouse to operate both displays. Although a touch screen can be convenient, a physical keyboard still has its uses, which is why a Bluetooth wireless keyboard is included.
This enables the Zenbook Fold to function as a fully-fledged laptop replacement, and it can be used in a variety of configurations, the most obvious of which is placing it on a lap or desk to take advantage of the device's dual 12.5-inch displays.
You'll have to be very close to the screen to view and operate it, which can be inconvenient given that one of the displays is aimed at the ceiling. The true jaw-dropping part is when you put the keyboard on top of the lower screen.
Not only does this transform the system into a compact laptop configuration, but Windows also turns off the bottom screen and relocates the taskbar and any open applications to the higher display.
The approach is clever and easy to understand, and it accomplishes its goal well. This is the way to go if you want this device to replace your regular laptop. It's true that there are less complicated and cheaper methods to get a laptop, but they don't offer the versatility of the Zenbook Fold's other modes.
The kickstand is useful at this point. One of the most practical configurations, which we'll term "desktop mode," involves propping open the rear shell so that the entire 17.3-inch display can be held in landscape orientation by the kickstand facing you. To make the desktop arrangement completely portable, just set up the wireless keyboard in front of the monitor.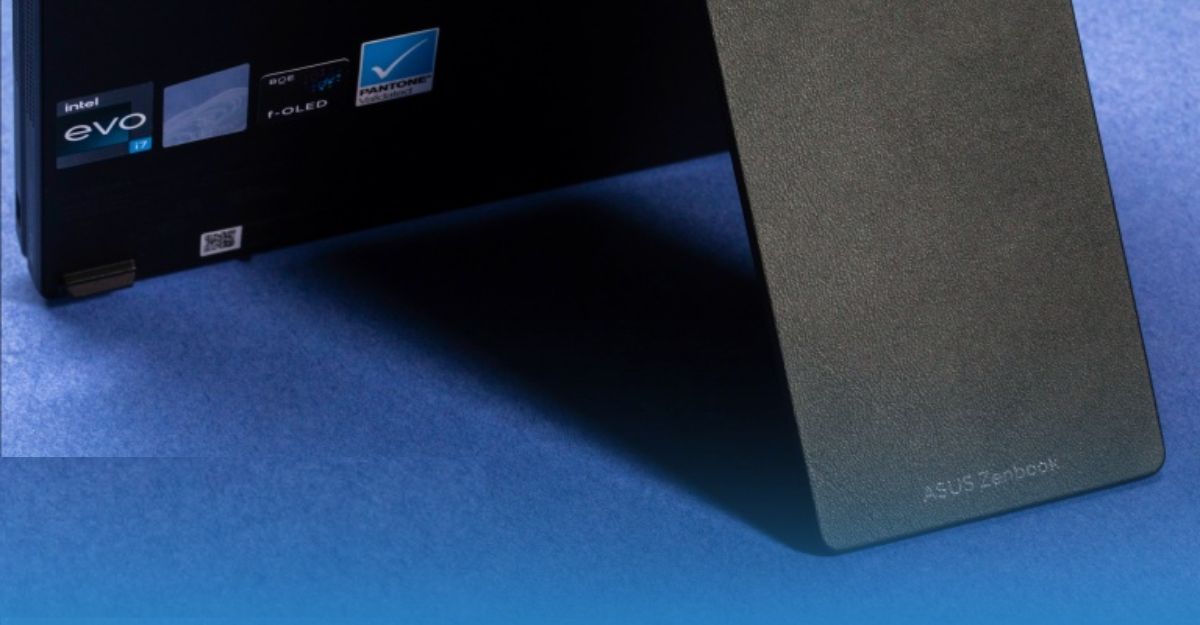 When the screen is folded in half and held with the "spine" vertical, the Fold can be used like a huge book. It's useful as an e-reader and for designing pages, but I found it awkward to handle and use for more than a few minutes at a time.
Last but not least, laying the Asus flat on the table transforms it into a giant tablet, though its practical applications will depend on the individual user; you can, of course, pick it up and hold it while seated to watch media or browse the web, but I can't think of many work scenarios where this would be useful.
It's even more important to note that there is currently no official stylus support for this device. There is no stylus pen included since Asus is concerned about scratches on the screen, and the firm does not encourage using a third-party stylus.
To be clear, not every pen will scratch the screen immediately, but it's important to take usage patterns into account and steer clear of ambiguity if you value your screen's longevity. It is at your own risk if you choose to use a stylus, as that is what Asus recommends.
Although soft-tipped domed rubber styluses are OK, they are not as convenient as pens for writing. Tablet mode is limited to media consumption without a keyboard.
The Fold's keyboard can be folded over the screen to make it more portable. When closed, the keyboard will fill the wedge-shaped clamshell's empty space, creating a compact stack.
However, the Bluetooth connection on the keyboard left a lot to be desired. I'm hesitant to pass judgment on our test device too harshly because wireless technology is notoriously iffy, but I did find myself frequently reconnecting the keyboard after the computer had shut down or gone to sleep.
That's annoying, and it certainly doesn't help the design flow. It took more tries than it should have, but I finally got it hooked up.
When using the Zenbook 17 Fold OLED in these various configurations, what have I learned? It's astonishing in its adaptability, albeit the degree to which each mode is helpful to a given user's specific process will likely differ.
The ThinkPad X1 Fold and this device are both fun to play with and have some practical applications thanks to the larger display and keyboard, but it's hard to see either as anything more than a novelty or proof of concept.
How does the Zenbook Fold compare to other standard Windows laptops after being examined in isolation? Let's break down the specifics of Asus's single $3,499.99 configuration.
Components and Connectivity
Powered with a Core i7-1250U processor (two Performance cores, eight Efficient cores, 12 threads), 16GB of RAM, and a 1TB solid-state drive, the Zenbook 17 Fold OLED is a powerful laptop.
A substitute for a discrete GPU is Intel's integrated Iris Xe graphics. In comparison to other laptops, this one is very difficult to open and upgrade; nonetheless, Asus claims that the SSD can be removed and replaced with some work.
These parts are understandable given the small size, but they don't live up to the asking price of the Asus. Considering the Fold's size and novelty set it apart from ultraportables engineered for extra-long battery life, the decision to settle for one of Intel's 15-watt U-series CPUs in a $3,500 laptop is so rare as to be astonishing.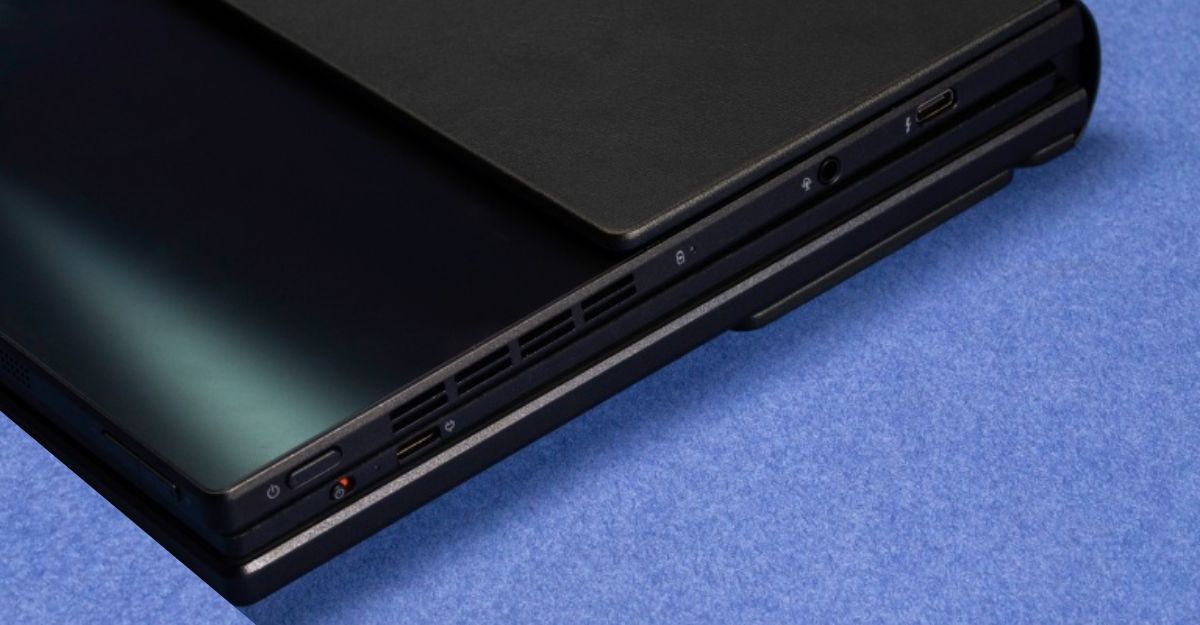 The Zenbook Fold's high price tag is unmistakably attributable to its innovative design and engineering rather than a powerful workstation-level processor or a dedicated gaming graphics processing unit.
In addition to being able to afford it, you should want this gadget for the opportunities presented by its form factor rather than for its basic performance. There are just two USB-C Thunderbolt 4-compatible ports, one on the upper left and one on the right. (One or the other can house the power supply.)
Don't bother looking for a Type-A USB port or an HDMI monitor connector. The Fold has great video quality for a 720p webcam (not the best we've seen, but better than most 720p cameras), as well as Wi-Fi 6E and Bluetooth 5.2.
Testing the Zenbook Fold 17 OLED: Know When to Fold 'Em' 
To state the obvious, there is nothing that directly competes with the Zenbook 17 Fold OLED. Therefore, we selected a selection of laptops that share many of the Fold's features in order to conduct our performance benchmark comparisons.
The HP Pavilion Plus 14 is an inexpensive, lightweight OLED laptop with an improved processor and a much cheaper price. One premium convertible that uses a comparable processor is the HP Spectre x360 13.5.
It's true that the LG Gram 17 is a big-screen laptop, but it's also very portable. The Asus ROG Zephyrus Duo 16 is a premium gaming laptop that, like the Fold, features a twin screen design, but is equipped with significantly more powerful hardware and is, therefore, a near-certain winner in most of our tests. In the table below, we've laid out the bare minimum information you need to know about each contestant.
Assessing Performance on Productivity Measures
PCMark 10, developed by UL, is a productivity and content-creation benchmark that replicates a wide range of real-world workflows to evaluate overall performance in common workplace scenarios. The storage loading time and throughput of a laptop are also evaluated using PCMark 10's Full System Drive test.
Three more tests evaluate a computer's processing power by making extensive use of its central processing unit (CPU), including all of its cores and threads. The Geekbench 5.4 Pro from Primate Labs emulates a wide variety of popular programs, from PDF rendering and speech recognition to machine learning, while the Cinebench R23 from Maxon replicates the rendering of a complicated scenario using the company's Cinema 4D engine.
Finally, a 12-minute video clip was transcoded from 4K to 1080p using the free software HandBrake 1.4. (lower times are better).
Finally, we put a PC through Puget Systems' PugetBench for Photoshop, which evaluates its ability to handle content creation and multimedia programs using Adobe's industry-standard image editor, Photoshop, version 22 from the Creative Cloud.
It's an add-on that, when installed, will automatically apply masks, gradient fills, and filters, as well as do other common and GPU-accelerated Photoshop operations, such as opening, rotating, resizing, and saving an image.
The Fold is fast enough for casual use and light office work (it easily topped the 4,000 points in PCMark 10 that suggest outstanding productivity for Microsoft Office or Google Workspace), but it ranked last among the bunch.
The Fold is the least competent of these platforms for digital media editing and content production. Unfortunately, the Zenbook Fold is not a workstation, despite the fact that its huge, high-quality OLED screen will appeal to artistic types.
Graphics and Gaming Tests
Night Raid (less demanding, suited for laptops with integrated graphics) and Time Spy (more demanding, ideal for desktops with dedicated graphics) from UL's 3DMark is used to evaluate the graphical capabilities of Windows PCs (more demanding, suitable for gaming rigs with discrete GPUs).
GFXBench 5.0 includes two extra tests that use off-screen OpenGL operations to accommodate varying screen resolutions.
The ROG Zephyrus Duo's high-end Nvidia GeForce GPU easily outperformed the integrated graphics of its competitors. As expected, the Zenbook Fold was unable to handle even the most basic games (or browser-based games) or 3D activities like CAD or CGI rendering.
Screen and Battery Life Tests
To determine how long a laptop can stay powered up, we run the open-source Blender short Tears of Steel (in 720p) with the screen brightness set to 50% and the volume at 100% until the device shuts down. Before doing the test, we make sure the battery is fully charged and disable Wi-Fi and the keyboard's backlight.
A Datacolor SpyderX Elite monitor calibration sensor and associated Windows software are used to assess a laptop's brightness (in nits), color accuracy (in the percentage of the sRGB, Adobe RGB, and DCI-P3 color gamuts or palettes), and color saturation (candelas per square meter).
The battery life of the Zenbook Fold is a strong point, lasting comfortably through an entire workday, school day, or most business flights with some work in your hotel. It's crucial that you don't need to constantly search for an AC outlet because this gadget is practically begging to be brought with you wherever you go.
The screens on all of these laptops are above par, with wide color gamuts and adequate brightness; the Fold's 321 nits may fall short of the 400+ we expect to see from IPS panels, but the OLED technology more than makes up for this.
 Melding Into a Futuristic Ideal
The Asus Zenbook 17 Fold OLED is a remarkable folding tablet that can double as a genuine laptop, and it generally succeeds in its goals. Nonetheless, there are a few catches: When compared to the performance of a mobile workstation or gaming laptop, which can be purchased for the same price, the price tag appears excessive (or even an ultraportable for a lower cost).
While we can't suggest The Fold as an Editor's Choice pick, we do award it 3.5 stars instead of 3 because of its unique design. The Zenbook Fold is awesome, but only if you look at it as a prototype for something better and cheaper in the future. It's a relief that it's available.