Apple Feature iOS 16: Apple has released a preview of iOS 16, which includes a major overhaul to the Lock Screen as well as new tools for sharing, communicating, and using artificial intelligence. The iCloud Shared Photo Library in iOS 16 makes it easy to share photos with friends and family across devices, while the improved Messages and Mail apps make it simpler to keep in touch, and the Live Text and Visual Look Up features are more robust than ever.
"iOS 16 is a major release with enhancements that will fundamentally alter your iPhone experience," claimed Craig Federighi, Apple's senior vice president of software engineering. The Lock Screen has been reimagined with exciting new features to make it more personal and helpful, iCloud Shared Photo Library has been introduced for families, Messages and Mail have been updated to improve efficiency, and Live Text and Visual Look Up have been upgraded to take advantage of artificial intelligence.
Apple Feature iOS 16: Customized Access Through The Lock Screen
The Lock Screen in iOS 16 is more adaptable, customizable, and aesthetically pleasing. The new layering effect on the Lock Screen gives photographs a sense of depth by placing the subject in front of the time. The date and time can be customized to reflect the user's personality by selecting from a variety of fonts and colors.
Widgets that are reminiscent of Apple Watch complications can be found on the Lock Screen and provide quick access to a variety of useful pieces of information, such as the date, the weather, the battery percentage, the alarm time, the time in other time zones, the percentage complete of the Activity ring, and more.
Apple's Pride and Unity collection, which commemorates important cultural moments, the Weather wallpaper, which displays the current weather conditions as they change throughout the day, and the Astronomy wallpaper, which displays images of the Earth, the moon, and the solar system, are just a few of the many sources of inspiration available in the new Lock Screen gallery.
👾 iOS 16.2 beta 1 Bug

When on the Lock Screen and swiping from right to left to open camera – swiping up from the bottom on Face ID devices doesn't close the camera.

Pressing the Side button to sleep the device is the only way to exit the camera and return to the Lock Screen.

— Is iOS 16 Stable?  (@isiosstable) October 27, 2022
Lock Screens can be customized by the user with their preferred emoji or color scheme. When a user has access to a variety of Lock Screens, they can quickly and easily switch between them with a swipe. The new Live Activity feature allows users to monitor ongoing events, such as a game, workout, rideshare, or food delivery order, from the convenience of the Lock Screen.
The Lock Screen Has Been Modified Such that Notifications Rise from the Bottom Instead of Covering It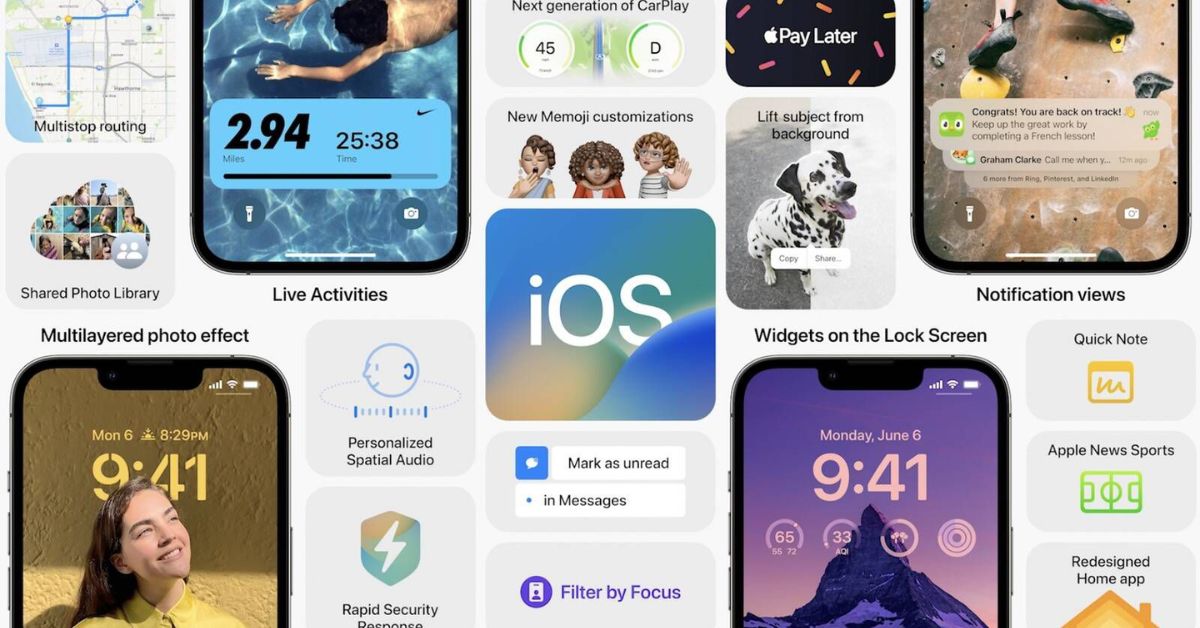 Focus on Finding Balance
Focus now integrates with the Lock Screen, giving users the option to assign a wallpaper and widgets from the Lock Screen to a specific Focus, making it more powerful and simpler to set up. Focuses can be activated by swiping on the corresponding Lock Screen. By filtering out irrelevant information, apps like Calendar, Mail, Messages, and Safari can help users strike a better work-life balance.
One Place for Family Photos with iCloud Shared Photo Library
With iCloud Shared Photo Library, up to six family members or friends can work together on, contribute to, and enjoy the same set of photos in a single, streamlined iCloud library. Users have the option to share either previously taken images or photos taken since a certain date or of specific people.
Using a new setting in the Camera app, a user can opt to automatically upload their captured images to the Shared Library. In addition, the Shared Photo Library's smart suggestions will let users easily find and share photos that contain their friends and family. In order to better relive family experiences, the shared photographs and videos can be added to, deleted from, edited, or favorited by any user in the Shared Photo Library.
Updates to Messages
Users can go back and change or recall just-sent messages, retrieve just-deleted ones, and mark entire threads as unread for subsequent perusal. In addition, SharePlay is coming to Messages, allowing users to share playback controls and enjoy synchronized media like movies and songs while conversing.
Updated Mail Tools
Users are now able to plan ahead and schedule emails, with the added ability to halt the transmission of a message up until it reaches the recipient's inbox. If the user forgets to include a necessary item, like an attachment, Mail will notify them. The Remind Later feature allows users to bring up an old message at a later time, while the Follow-Up suggestions prompt users to resend an email if they have not heard back from the recipient.
Mail's search has also been given a major facelift, and it now employs cutting-edge methods to provide more precise, detailed results. As soon as a user starts searching for emails, they are presented with a list of their most recent correspondence, along with any relevant contacts, documents, and links.
Live Text and Visual Look Up Enhancements
Live Text is an iOS app that leverages the device's own intelligence to recognize text in photographs, and it can now also do the same with video. Whenever they want, viewers can pause a video on any frame and read the transcript in real-time. Instantaneous currency conversion, text translation, and more are just some of the features added by Live Text.
With the new Visual Look Up function, users may tap and hold on to an image's subject to remove it from the backdrop and transfer it to other apps, like Messages. With the latest update, Visual Look Up can now identify monuments, insects, and even birds.
The wallet now has Apple Pay Plus, Order History, and More!
With iOS 16 Pay Later, customers in the United States may easily and safely spread the cost of an Apple Pay purchase across four equal payments spanning six weeks, with no interest and no fees. Apple Pay Later is an integrated feature of Apple Wallet that helps users keep tabs on their spending and makes it simple to schedule payments.
Apple Pay Later can be signed up for in Wallet or during the Apple Pay checkout process. Apple Pay Later works with the Mastercard network and can be used anywhere Apple Pay is accepted. For purchases made with Apple Pay at selected retailers, customers can get receipts and order tracking information in Wallet thanks to Apple Pay Order Tracking.
The wallet now supports more forms of identification and keys. The wallet lets users store and use identification documents for usage with apps that request proof of age or identification. Only the relevant information for the transaction will be given to the app, and the user can review and consent to sharing it using Face ID or Touch ID, ensuring a private and secure experience.
Moreover, Wallet users may safely send each other their house, hotel, business, and automobile keys over Messages, Mail, and other messaging apps.
Improved CarPlay for the Future
CarPlay has revolutionized how people interact with their vehicles, and the upcoming version will go even further by providing seamless integration with a car's hardware. With CarPlay, passengers will have a streamlined and unified experience across all of the vehicle's displays. CarPlay's smooth rendering of the vehicle's speed, fuel level, temperature, and more on the instrument cluster is made possible by its enhanced connection with the vehicle, which also allows users to perform things like controlling the radio or adjusting the climate directly through CarPlay.
With the addition of widget functionality, users may customize their dashboard with information from services like Weather and Music, making the driving experience unique to each individual. Additional details about CarPlay's next generation will be released in the near future, and car announcements will begin by the end of 2019.
Apple Feature iOS 16: Additional Features
Shared Tab Groups in Safari make it easy to add tabs and see what other people are watching on the same network.
With the new multistop routing feature in Apple Maps, users may set up to 15 stops in advance, with the route syncing between the Mac and the iPhone when the user is ready to go.
Using Family Sharing, parents may quickly and easily set up a child's account with all the necessary safety settings.
Dictation provides a novel interaction with the device by facilitating a natural transition between speech and touch.
With Siri, app shortcuts can be launched immediately after download, without the need for any additional configuration.
Improvements to the underlying architecture allow for more efficient and reliable control of the smart home, while the Home app streamlines navigation, organization, and viewing of the accessories.
Even if you don't have an Apple Watch, you can still use your iPhone and the Health app to keep track of your activity and progress toward your fitness objectives.
An all-new section called Medications has been added to the Health app, making it easier than ever to keep tabs on the many pills, capsules, and tablets you take every day.
You can now keep up with your favorite teams and leagues with Apple News' new My Sports section, where you can also read articles from hundreds of leading publications, check out scores, schedules, and standings for the best professional and collegiate leagues, and even watch highlights without leaving the News app.
The revamped Game Center dashboard consolidates friends' gaming activity and achievements into one location, making it simpler than ever to hop into a game with or compete against pals.
An even more pinpointed and immersive listening experience is made possible by individualized spatial audio.
Users whose physical safety is at risk due to domestic or intimate partner violence can benefit from a new privacy feature called Safety Check.
New accessibility features include Door Detection, which allows users with low or no vision to use their iPhone to navigate the final few feet to their destination, and Apple Watch Mirroring, which allows users with physical or motor disabilities to fully control their Apple Watch from their iPhone using assistive features such as Voice Control and Switch Control.