18-inch Gaming Laptops: Laptop manufacturers have been gradually reducing display bezels by the millimeter in order to provide us with gaming laptops that feature larger displays despite having thinner bodies.
There has been a shift from 16:9 widescreen displays to taller 16:10 ratio panels. Thus far, this has meant that gaming laptops with a 15.6-inch screen would be upgraded to a 16-inch display while maintaining a relatively unchanged overall footprint.
The same is happening with 17.3-inch gaming laptops now. Alienware, Acer, Asus, and Razer all unveiled new 18-inch gaming laptops at CES 2023. Although no 18-inch models were introduced by Lenovo, HP, or MSI, I have no doubt that this situation will soon change.
However, 17.3-inch widescreen monitors are still in use today. New versions of the Acer Nitro series, powered by Intel and AMD processors, were recently announced, and the Asus Strix Scar 17 and Strix G17 were also updated for the upcoming year of 2023.
However, 17.3-inch models may soon be obsolete due to the proliferation of 16- and 18-inch gaming laptops by companies like Acer and Asus (and 15.6-inch ones, too). In anticipation of CES 2023, here is the first wave of 18-inchers to debut.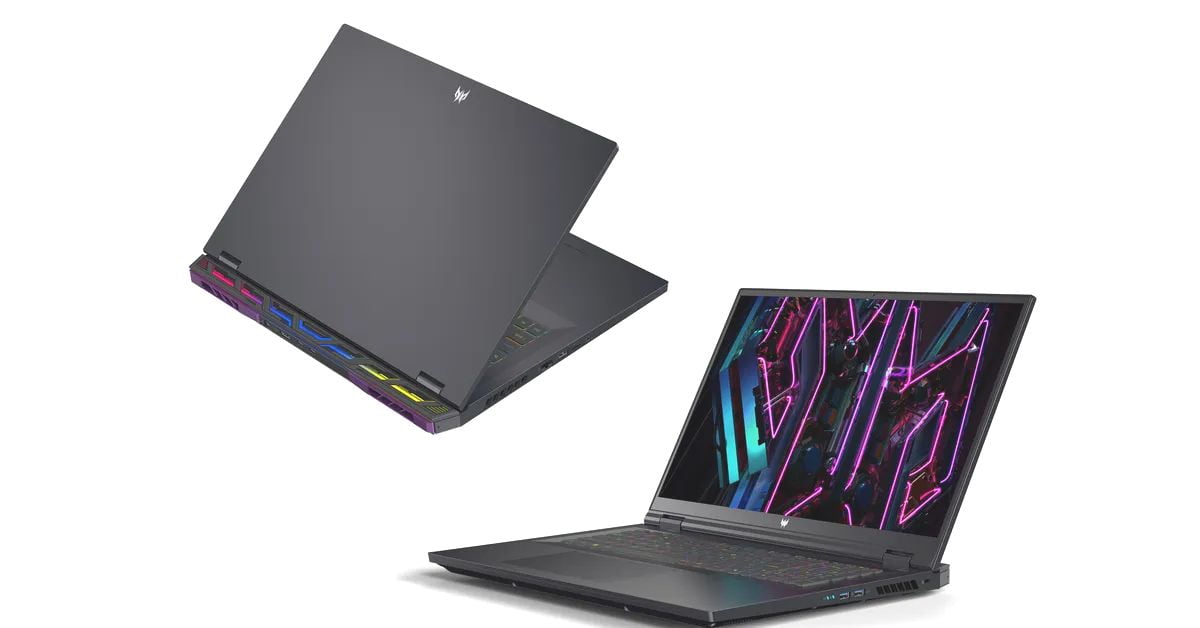 Asus ROG Strix Scar 18
The bezels, or borders, around laptop screens have been steadily shrinking over the past few years. As internal components have shrunk and cooling systems have improved, manufacturers have been able to fit bigger screens into smaller chassis.
Day 3 of #CES2023 is underway and the Razer Edge has scored these awesome awards by @DigitalTrends, @T3dotcom, @windowscentral, @bigtechquestion and @theshortcut! The Ultimate Android Gaming Handheld will be available on Jan 26, reserve now: https://t.co/MYU7PkqZSn pic.twitter.com/hLk6rrMFBm

— R Λ Z Ξ R (@Razer) January 7, 2023
Therefore, you can get a 16-inch screen on a laptop that previously only accommodated 15-inch screens.
And now you can get an 18-inch screen in a laptop that's about the size of a 17.3-inch screen from a few years ago. With the larger form factor of the ROG Strix Scar 18 (it also comes in a 16-inch model), Asus was able to fit in more powerful hardware.
Acer Predator Helios 18
New 13th-generation Intel Core processors, Nvidia GeForce RTX 40-series graphics, improved cooling, gorgeous large displays, and an abundance of lighting are just some of the features coming to the Predator Helios 18.
So exciting to be at #CES2023 as the long awaited @Razer Edge #5G becomes available for purchase. Powered by none other than the extraordinary @Snapdragon G3X Gen 1 Platform, you're REALLY going to want one of these — get shopping. https://t.co/syZGbYR1wY

— Don McGuire (@donnymac) January 6, 2023
They can use up to 32GB of DDR5-4800 RAM and 2TB of PCIe Gen4 NVMe solid-state drives in RAID 0 with the latest CPUs and GPUs.
The Helios 18 will feature a choice of three displays, all of which have a resolution of 2,560 by 1,600 pixels and either a 165Hz or 240Hz refresh rate, or a 250Hz refresh rate, a 100% P3 color gamut, and a peak brightness of over 1,000 nits on a Mini LED panel. There will also be a cheaper display option with 1,920 x 1,200 resolution and 165 hertz.
it looks like the Razer Blade 16 is a gaming laptop dream come true. @mcsquared96 is impressed with the Mini LED screen that's 16:10 🙏https://t.co/1xz1EyAKRS

— Tom Warren (@tomwarren) January 6, 2023
Razer Blade 18
Razer claims that the Blade 18 is a worthy replacement for a traditional desktop computer. It's certainly going to be one of the thinnest and most powerful 18-inch laptops available, with up to a 13th-gen Intel Core i9 HX processor and an Nvidia GeForce RTX 4090 graphics. In addition to a 240Hz refresh rate, its 1440p resolution will cover the entire P3 color space.
Alienware m18
The m18 is a powerful 18-inch notebook that can be outfitted with your choice of an Intel or AMD processor and Nvidia or Radeon graphics. Alienware utilized seven heat pipes and four fans to maintain the component temperature while maintaining the same chassis thickness as the previous year's m17.
Our most powerful gaming laptop, the Razer Blade 18 secured these #CES2023 awards by @bigtechquestion @pcpro @pcgamer @t3dotcom @trustedreviews & @theshortcut! With a dual-mode mini-LED display, the Razer Blade 16 also won awards by @pocketnow @reviewed & @windowscentral. pic.twitter.com/j6boOWVPxv

— R Λ Z Ξ R (@Razer) January 8, 2023
The m18 can hold up to 9TB of data, and it has a full-size keyboard and number pad with optional Cherry MX mechanical keys, as well as dual user-replaceable DDR5 SO-DIMM slots. Both a 165Hz (2,560×1,600) and a 480Hz (1,920×1,200) version will be available from Alienware.
Please keep visiting Techballad.com for updates. Keep our site bookmarked so you can quickly return to check for new content. Like Get Top-rated Nintendo Switch Games for Under $4!